Talk of EU troops in Ukraine 'extremely dangerous' – Kremlin
Moscow has raised concerns over Hungarian PM's claims that bloc is set to discuss sending 'some kind of force'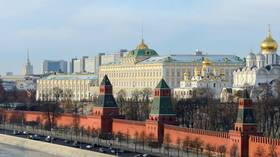 Any ideas about a possible deployment of EU forces in Ukraine are potentially very dangerous, Kremlin spokesperson Dmitry Peskov has warned, in response to comments made by Hungarian Prime Minister Viktor Orban on Friday.
"If we are talking about some kind of serious negotiations, then this is a potentially extremely dangerous discussion. In world practice, such forces, as a rule, are used only with the consent of both parties. In this case, it is potentially a very dangerous topic," Peskov told journalists.
His statement comes after Orban revealed that EU leaders are close to holding a "legitimate" discussion on whether or not member states can or should send "some kind of peacekeeping force" to Ukraine, despite a probable rebuke from Russia.
The Hungarian leader warned that the Ukrainian conflict is only getting bloodier and more brutal, and questioned why EU leaders are not focused on trying to achieve peace through diplomatic means rather than the provision of more deadly tools to Kiev and the fueling of hostilities.
"If this continues, the danger of a world war is not a literary exaggeration," the prime minister said.
Since Russia launched its military operation in Ukraine last year, Budapest has consistently opposed sanctions on Russian energy resources and has refused to send military aid to Kiev's forces, citing the need to maintain and to equip Hungary's own army.
Meanwhile, Russian MP Alexey Chepa has suggested that if the EU does decide to send a peacekeeping force to Ukraine, it would certainly be interpreted as a direct involvement in the conflict and an attempt to provoke a Russia-NATO war.
Chepa stated that in this case Russia could be forced to seek help from its Collective Security Treaty Organization partners, which include Belarus, Armenia, Kazakhstan, Kyrgyzstan and Tajikistan.
You can share this story on social media: