Kremlin comments on Ukraine peace initiatives
The latest ceasefire plan set out by Belarus warrants discussion, Putin's spokesman has said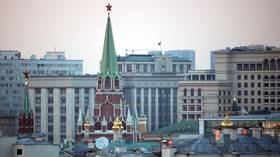 Belarusian proposals for a suspension of hostilities in Ukraine can be discussed but they don't change Moscow's analysis of the conflict, the Kremlin spokesman told reporters on Friday.
Dmitry Peskov noted that the initiative formulated by the key Russian ally could not be directly compared to the roadmap for peace in Ukraine set out by China.
The latest proposals for a truce, which were outlined by Belarusian President Alexander Lukashenko, involve a ban on the movement of troops and weapons, so neither Russia nor Ukraine could use the armistice to regather their forces.
Asked about the initiative during a conference call with journalists, Peskov said Lukashenko and Russian President Vladimir Putin would have an opportunity to discuss the proposals when they meet next week. He noted that nothing had changed for Russia regarding Ukraine, and military action "remains the only path to achieve the goals of our nation."
The Russian official declined to compare Lukashenko's plan to proposals released by the Chinese Foreign Ministry last month, which would see the conflict de-escalated and its core issues addressed, including NATO's expansion in Europe. It also states that the territorial integrity of all nations must be respected.
Chinese President Xi Jinping visited Russia earlier this month in a move that Ukraine's Western backers perceived as a gesture that undermined Beijing's position as a mediator in the conflict.
US Secretary of State Antony Blinken accused Xi of providing "diplomatic cover" for Moscow and urged the world not to be "fooled by any tactical move by Russia, supported by China or any other country, to freeze the war on its own terms."
Russia has said it was giving the Chinese proposals careful consideration, but Peskov said some parts "cannot be implemented at this moment due to the unwillingness or rather incapacity of the Ukrainian side to disobey its handlers and commanders."
"Those commanders, who are not in Kiev, as we know, insist that the war continues," he added.
You can share this story on social media: