US Army pulls recruitment ads after star's arrest
Marvel actor Jonathan Majors, who voiced the Pentagon's new campaign, was arrested in New York on domestic violence charges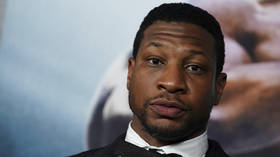 The US Army has canceled two promotional videos voiced by Hollywood star Jonathan Majors, after the actor was arrested in New York for allegedly assaulting a woman. The Pentagon had hoped to use the ads to boost recruitment after missing its hiring targets last year.
Majors was arrested on Saturday after a dispute that left a 30-year-old woman with minor injuries to her head and neck, Variety reported. The actor, who recently starred in 'Creed III' and Marvel's 'Ant-Man and The Wasp: Quantumania', is facing charges of assault, strangulation, and harassment.
In a statement to the Associated Press, the Army's Enterprise Marketing Office said that it was "deeply concerned by the allegations" against Majors, adding that while the 33-year-old actor is "innocent until proven guilty, prudence dictates that we pull our ads until the investigation into these allegations is complete."
Majors appeared in two ads released by the army this month, entitled 'Overcoming Obstacles' and 'Pushing Tomorrow'. The former depicts pivotal battle scenes from the army's history and boasts of its ability to "transform the lives" of recruits. The latter also includes historic scenes, this time focusing on technologies pioneered by the military. Both end with the army's "be all you can be" slogan.
The ads debuted during the March Madness college basketball tournament, as the army looks to high-school and college-aged youths to hit its goal of 65,000 new recruits in 2023.
Reaching that number may prove difficult, however. The army suffered its worst recruitment year in four decades in 2022, falling 25% short of its 60,000 hiring target. Heavily criticized by conservatives for imposing a coronavirus vaccine mandate and subjecting its employees to diversity training, the Pentagon responded to the shortfall by increasing enlistment bonuses, lowering fitness standards, and accepting people with previously off-limits medical conditions.
You can share this story on social media: