US military struggling with recruitment
The US Army fell 25% short of its recruitment targets this year, officials admitted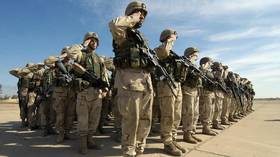 The US Army has failed to hit its recruiting goals this year, falling 15,000 soldiers short of its 60,000 target, officials said.
Others branches of the country's armed forces, such as the Air Force, Navy and Marines, managed to reach their enlistment goals, but only after digging into their pools of rejected or delayed-entry applicants.
"In the Army's most challenging recruiting year since the start of the all-volunteer force, we will only achieve 75% of our fiscal year '22 recruiting goal," Army Secretary Christine Wormuth said in a statement to the Associated Press on Friday.
She added that if the Army continues to experience recruiting challenges, it will draw on the National Guard and Reserve to augment active-duty forces.
The military now reportedly fears that enlistment will continue to plummet next year. The Marine Corps usually has about half of its recruitment target achieved at the beginning of each fiscal year, but has only secured about 30% for 2023 so far, unnamed officials told the AP. Meanwhile, the Navy, which usually opens the fiscal year at about 25% of recruitment, reports 10% of the target so far, they said.
Military leaders tried a number of methods to build up their ranks this year, such as increasing enlistment bonuses, dropping high school diploma requirements, and lowering physical standards. However, the AP noted that many potential recruits are drawn to private industry in what is a tight labor market.
Corporations such as McDonald's have also begun introducing perks such as tuition benefits, similar to those used by the military to attract recruits for years.
The issue is exacerbated by the fact that only 23% of young people meet the military's requirements, with many ineligible due to medical issues including obesity, drug use and criminal records.
Nevertheless, chief of staff of the US Army, General James McConville, insisted the Army remains committed to "maintaining our standards, investing in America's youth, and emphasizing quality over quantity."
You can share this story on social media: