Chicago mayor suffers historic loss
As crime in America's third-largest city soars, Lori Lightfoot is the first mayor in 40 years to lose a reelection bid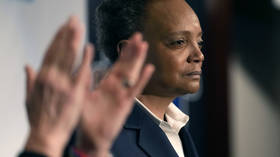 Chicago's Lori Lightfoot has lost her bid for reelection, becoming the first mayor of the city to do so since 1983. Lightfoot faced criticism for her coronavirus policies and the dramatic rise in violent crime during her tenure.
With almost all votes counted on Tuesday evening, Lightfoot came in third place behind former Chicago Public Schools CEO Paul Vallas and Chicago Teachers Union organizer Brandon Johnson. Vallas and Johnson will contest a runoff election in April, as neither won an outright majority.
Lightfoot took office in 2019 after winning more than 73% of the vote in a runoff against Cook County Board President Toni Preckwinkle. On Tuesday, however, she received only 17% of the ballot.
Under Lightfoot's stewardship, Chicago has seen violent crime rise every year since 2019. Although murders have dropped to 66 so far this year from 80 during the same period last year, violent crime overall is 63% higher than in 2022 and 107% higher than in 2021, according to police statistics.
Amid the rising crime wave, Lightfoot was heavily criticized by conservative pundits for promising to slash $1.8 billion from the policing budget in 2020, in response to Black Lives Matter protests. Although that plan was abandoned, Lightfoot never filled hundreds of empty police positions and failed to shake her 'soft on crime' image in the national media – a perception bolstered by shocking videos of riots and looting sprees in the city's downtown.
Vallas is running on a message of law and order, promising to hire thousands of police officers and to crack down on the "brazen" criminality that the city has become known for, while Johnson wants to cut the force's budget and eliminate a "racist" gang-tracking database.
Lightfoot responded to the Covid-19 pandemic by implementing a vaccine mandate that she described as "inconvenient by design." Under the mandate, anyone aged over five had to show proof of vaccination to enter restaurants, gyms, and entertainment venues. Although she promised in late 2021 to make the restrictions even "more extreme" if they didn't lead to a higher vaccine uptake, the mandate was abandoned the following year.
Throughout the pandemic, Lightfoot sparred publicly with the city's powerful teachers' unions. While she initially kept schools closed longer than Illinois state guidelines recommended, Lightfoot then struggled to force teachers to return to the classroom last January.
As Lightfoot conceded defeat on Tuesday evening, police responded to the fatal shooting of a 55-year-old woman on the city's violent south side. The murder came a day after two men were found shot to death in the same neighborhood, and after a weekend in which 14 people were shot, three fatally.
You can share this story on social media: