Chicago teachers sexually assaulted hundreds of students – report
An internal investigation has substantiated over 300 allegations of grooming and other sexual misconduct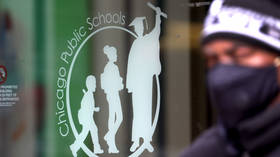 Internal investigators for Chicago Public Schools (CPS), the third-largest US school district, have substantiated allegations that hundreds of teachers and administrators groomed and sexually assaulted their students, an inspector general's report has revealed.
More than 600 sexual misconduct complaints were investigated during the 2021-2022 school year, and allegations were found to be valid in about half of those cases, the district's Office of Inspector General (OIG) said earlier this month in its annual report. The office doubled the number of complaints that it investigated from a year earlier under an initiative to speed up processing of its "extraordinarily high case volume." The number of new cases opened jumped 38% from the previous year.
In one case, a high school teacher "engaged in a systematic pattern of grooming behaviors with female students," the report said. He made intimate physical contact with students and openly solicited sex acts, such as asking a girl to recruit a classmate for a threesome.
Another complaint involved a high school teacher who sexually assaulted a 17-year-old student on three occasions after grooming her with inappropriate touching and comments, the OIG said. He was criminally charged, but a jury acquitted him last November. The allegations were corroborated by text messages to the student. In one note, the teacher begged her not to report the assaults, the report said.
In another case, a former staffer pled guilty to criminal sexual abuse after being accused of having sex with a student over the course of a year, starting when she was 16. He also provided the girl with alcohol and directed her to buy marijuana for him. The OIG said he threatened to kill the student and her family when he found out that he might be under investigation.
Some complaints against teachers were mishandled. For instance, the OIG said staffers failed to notify administrators when a high school student reported that a teacher exposed his penis to her, instead making excuses for him. When she posted a message about the incident on social media, a younger student came forward to allege that the same teacher had sent her videos of himself masturbating.
An investigation of alleged sexual misconduct by two staffers at a CPS military academy quickly expanded as new accusations surfaced. The probe eventually substantiated allegations of misconduct by 13 employees, including the former principal, the OIG said.
You can share this story on social media: