The lawless city that epitomizes America's urban decline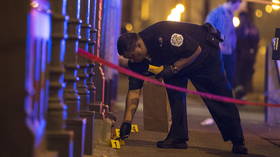 Tens of thousands of people – in particular African Americans – are fleeing Chicago, appalled by a crime wave that is out of control and by political leaders' unwillingness to address the city's serious problems.
If you headed to Chicago in the 1970s, you'd likely see a sign as you drove into the city that said, "Welcome to Chicago, the City that Works." Fifty years later, however, it's clear that something's not working in the Windy City.
Once the second most populous city in the country, it has now fallen to third in population, behind New York and Los Angeles, as it struggles with problems such as persistent poverty, violence and charges of being one of the most racially segregated big cities in America.
The population of Chicago maxed out in the 1950s and 1960s at 3.6 million. By 2019, the city had shed nearly a million people and it now stands a tad shy of 2.7 million. And no population decline has been as steep as that of the African American residents.
Some black people have given up on the city to go back to the more racially-integrated south – or to flee to the suburbs to claim their share of the quietude promised by suburban life.
While black flight is happening in many northern cities, Chicago's black population has shrunk more than others.
"In sheer numbers, Chicago's outflow [of blacks] has been particularly dramatic. In 1980, about 40 percent of the city's total population was black — one of the country's most formidable concentrations of black business and political power. Since then, that number has dropped to just under 29 percent," reported Politico recently.
Politico estimates that one Chicago neighborhood, Englewood, which boasted 100,000 residents in the 1960s now has just 22,000 mostly black residents who face "a seemingly intractable level of street violence."
The violence is now going citywide, and not just confined to black neighborhoods.
With not much more than a week left to go before the new year, Chicago has had 812 murders in 2021, up from the 803 mark for 2020, versus 552 homicides in the pre-pandemic year of 2019. The number of people shot has surged from 2,221 in 2019 between January and October to 3,766 in 2021, during the same period, a 70% increase.
But besides futile gestures like declaring gun violence a "public health crisis" and rhetorically demanding the violence "must stop," little has been done by local politicos to stop the violence, while much has been done to allow it to flourish.
The Chicago Sun Times says that the current mayor, Lori Lightfoot, and her allies in the city council cut $1.8 billion from the policing budget last year, eliminating 600 vacant cop jobs after 1,000 police retired in the wake of the budget reductions.
Now the violence on the South and West sides of the city is creeping into the business districts, encouraged by fewer police and the violent anti-police political protests staged downtown that were fueled by the George Floyd killing in 2020.
After two teens were shot, "dozens of young people flooded the area, fights broke out [and] police made 21 arrests of youths" over a recent weekend according to Fox News.
Subsequently, police were forced to consider closing down the downtown area, complete with raising Chicago River bridges, as if the area was a medieval fortress and the river a moat.
A week later, in a brazen attack, thieves stole over a million dollars' worth of watches from a downtown car dealer in an armed, daylight raid where the showroom security had the good sense not to shoot at the bad guys and instead chalk the loss up to the insurance company.
But local community leaders were outraged, condemning the seeming acceptance by Chicago's political establishment of such acts of brigandage.
"If we continue as citizens to accept this abnormal behavior as normal behavior, someone just coming into your place and stealing… we can't live like this," community activist Pastor Anthony Williams told local ABC News.
The current crop of politicians in the city either don't seem to be hearing pleas from the community to do something or aren't up to the task of leading the city out of the crisis atmosphere.
In fact, Mayor Lori Lightfoot seems to be making it worse. Lightfoot blamed local businesses for not doing enough to protect themselves, after a series of smash-and-grab robberies downtown a year on from her police budget cuts.
"Mayor Lori Lightfoot was accused Thursday of abdicating responsibility for the retail crime wave sweeping Chicago and, instead, pressuring merchants to implement their own costly and unworkable security measures," said the Chicago Sun Times.
Her leadership style, which can be kindly described as "prickly" at best, was exposed as rude and combative when the Chicago Tribune obtained copies of text messages between her and colleagues that call others "jackass," "full of crap," and a "dumb, dumb person of color."
The collection of texts "further reveals the extent to which the mayor – who campaigned as a reformer aiming to unite the city – at times resorts to name-calling and shaming of her perceived enemies as she governs the city," said the Chicago Tribune.
Even before the texts were revealed "about three-fifths of likely Chicago voters say 'No' to another term for [Lightfoot]," according to a survey by Fox 32 Chicago.
That's down from the 75% approval she had in June of 2020 when she was helping to defund police, to near universal applause in Chicago.
And it's a peculiarity of Chicago politics that Lightfoot is likely to still be the frontrunner to win the 2023 election in what's supposed to be a non-partisan election that relies a lot on a crowded field of candidates. In 2019, for example, Lightfoot made the runoff election after securing less than 18% of the vote citywide.
It's in the paradox that allowed Chicago voters, who opted for Joe Biden in massive numbers (82%), to applaud while the city defunded the police, yet recoil as they deal with the fallout of that decision. And it goes a long way toward explaining exactly why the city just doesn't work anymore, losing population and spawning violence, a cold mess on a lake in the upper Midwest.
Chicago voters are enamored of the dramatic gestures of electing (and perhaps reelecting) the first, black, openly gay woman, Lightfoot, as mayor, and of defunding the police – both of which have had questionable results – rather than doing things like basic policing.
The result has been a city that has been losing population, and a victim of rising crime, a cycle that threatens to feed on itself until voters come to their senses and make Chicago a city that works again.
The statements, views and opinions expressed in this column are solely those of the author and do not necessarily represent those of RT.
You can share this story on social media: