Biden comments on F-16 jets for Ukraine
The US president said the same thing he once said about Abrams tanks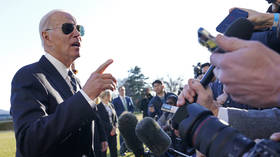 The US won't send F-16 fighter jets to Kiev, President Joe Biden said on Monday, commenting on media reports that the Pentagon was considering it. He had previously said that sending tanks to Ukraine would mean World War Three, only to change his mind last week.
"No," Biden told reporters outside the White House, when asked about the F-16s.
According to Politico, however, some US military officials are "quietly pushing the Pentagon to approve" sending the jets to Kiev. The outlet quoted a Defense Department official and "two other people involved" in the discussions.
"I don't think we are opposed," the unnamed official told the outlet, but added that no final decision has been made. Asked about the issue, the White House referred to the deputy national security advisor, Jon Finer, who told MSNBC last week that the US will be discussing fighter jets "very carefully" and that Washington and its allies "have not ruled in or out any specific systems."
Biden addressed the question while talking about a potential trip to Poland in the near future. Polish PM Mateusz Morawiecki said earlier in the day that Warsaw would supply Kiev with F-16s, but only "in full coordination" with NATO, while France refused to rule out sending some of its own jets as well.
Poland had led the charge on sending Western-made tanks to Kiev, something Biden had previously described as too provocative.
"The idea that we're going to send in offensive equipment and have planes and tanks and trains going in with American pilots and American crews – just understand, don't kid yourself, no matter what y'all say, that's called World War III," he told House Democrats gathered in Philadelphia in March 2022.
Last week, however, he announced the delivery of 31 Abrams tanks to Kiev – just days after Politico reported this would not happen, citing well-informed Pentagon sources. Information leaked to Reuters and the Wall Street Journal – that the Abrams will be promised to clear the way for Germany to approve Leopard 2 deliveries – turned out to be correct instead.
Russia has repeatedly warned the West against supplying Ukraine with weapons, arguing that it would only prolong the conflict. Kremlin Press Secretary Dmitry Peskov said last week that continued deliveries serve as further proof that Western countries are directly involved in the hostilities.
You can share this story on social media: