Poland sets condition for potential F-16 deliveries to Ukraine
Warsaw says it is prepared to hand over the planes, but only in coordination with NATO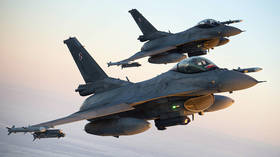 Poland will transfer F-16 fighter jets to Ukraine, but only as part of a coordinated effort with other NATO partners, Prime Minister Mateusz Morawiecki announced at a press conference on Monday.
Morawiecki said Warsaw coordinates all actions pertaining to strengthening Kiev's defensive capabilities with its NATO partners, primarily with the US, noting the recent decisions to deliver Patriot air defense systems and M1 Abrams and Leopard 2 tanks to Kiev.
"And just as it happened a few months ago with MiG-29 aircraft, any other aircraft assistance will be coordinated, implemented and, possibly, transferred together with other NATO member states. We will act in full coordination here," Morawiecki said.
The PM's statement comes after Polish media reported last week that Warsaw had allegedly transferred a number of its MiG-29s to Ukraine in March 2022, disguising them as spare parts – while the US and allies refused to provide Kiev with military aircraft, deeming the move "too escalatory."
Since Russia launched its military operation in Ukraine in late February last year, Washington has been one of the main suppliers of military aid to Kiev, spending tens of billions of dollars on lethal assistance. However, the US has been hesitant to provide advanced weaponry such as modern warplanes, fearing they could be used to strike Russian territory and ultimately lead to a direct confrontation between Moscow and NATO.
On Saturday, however, it was revealed that a number of US military officials have been "quietly pushing" the Department of Defense to greenlight the delivery of F-16s to Kiev. As reported by Politico, several sources within the Pentagon claim these efforts are now "gaining momentum" after Washington agreed to send tanks and Patriot systems.
Russia has repeatedly warned the West against supplying Ukraine with weapons, arguing that it would only prolong the conflict. Last week, Kremlin Press Secretary Dmitry Peskov stated that the arms deliveries serve as further proof that Western countries are directly involved in the stand-off between Moscow and Kiev.
You can share this story on social media: