US State Dept sanctions Chinese govt officials over 'coercive influence activities'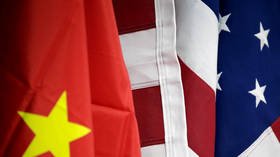 The US State Department has announced yet another round of sanctions on Chinese officials said to be involved in "coercive influence activities," demanding Beijing cease suppressing 'freedom of expression.'
The department has sanctioned several Chinese officials, accusing them of using coercion and intimidation to "suppress freedom of expression," according to a statement from Secretary of State Mike Pompeo on Friday.
The sanctions include visa restrictions on Chinese officials at the United Front Work Department, which Pompeo has alleged engaged in "malign activities" against those who oppose Beijing.
Today I announced visa restrictions on United Front Work Department officials who have engaged in malign activities to co-opt and coerce those who oppose Beijing's policies. We call on the PRC to end its use of coercion to suppress freedom of expression.

— Secretary Pompeo (@SecPompeo) December 4, 2020
"The Chinese Communist Party never wanted to behave like a normal regime because at its core, it's not one," Pompeo explained in a tweet posted on Friday as he announced the sanctions. He described the party as a "revolutionary relic," comparing it to Iran and reasoning "That's why they work together so much."
"This isn't about America versus China, it's about freedom versus tyranny," the US diplomat continued, reprising a favorite line.
Pompeo also complained about what he called the Hong Kong government's "political persecution" of anti-Beijing billionaire Jimmy Lai, US-backed protest leader Joshua Wong, and fellow Hong Kong protesters Agnes Chow and Ivan Lam. Chow and Lam received brief sentences for their participation in the anti-government riots on Wednesday, while Wong's sentence was considerably longer.
Lai, who runs a news outlet sympathetic to the anti-government protesters, has been charged with fraud and remains in custody.
Also on rt.com
Visa clampdown shows Trump's aim is for Americans to consider EVERYONE from China as 'the enemy'
The Trump administration has been meting out sanctions at a rapid pace as the possibility of the president leaving the White House in January seems all but guaranteed. Earlier this week, the Treasury Department announced a round of "Venezuela-related sanctions" on China National Electronics Import & Export Corporation for allegedly selling software, training and surveillance tech to Caracas.
Also earlier this week, the Trump administration slapped wide-ranging visa limitations on CCP members and their families, limiting any possible US stay to just a month. The administration has also severely restricted the ability of Chinese state-run media to operate in the US, designating a total of ten popular outlets as "foreign missions" even while claiming it was Beijing that was the enemy of the free press.
China has previously responded to Washington's belligerence with sanctions of its own: in October, after three major American arms manufacturers sold billions of dollars in weapons to Taiwan, it slapped some on US defense companies. Beijing also targeted 11 senators and NGO heads with sanctions in response to the US passing the Uyghur Human Rights Policy Act, denouncing the US for interfering with Chinese affairs.
Also on rt.com
China's latest assault in tech battle with US is a way of starving the American war machine
Think your friends would be interested? Share this story!
You can share this story on social media: