China's latest assault in tech battle with US is a way of starving the American war machine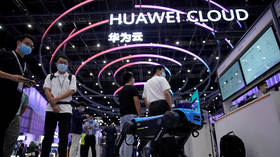 By limiting access to China's AI and rare earth metals, Beijing is responding to President Trump's endless stream of sanctions. But this latest move is set to cause big problems for the companies that work with the US military.
China's announcement of new laws controlling the exports of 'sensitive items' in a way that mirrors the US Commerce Department's 'entity list' is the latest example of escalating tensions between Beijing and Washington.
The new regulations are set to control items said to be vital to the country's national security, including military items, strategic technologies, artificial intelligence algorithms, and, most strikingly, rare earth mineral exports.
The announcement comes as Donald Trump's administration uses its last days to double down on China, with media reporting that it is set to blacklist the Semiconductor Manufacturing International Corporation and the China National Offshore Oil Corporation as firms allegedly 'controlled' by the country's military.
Also on rt.com
UK's report on Huawei 5G 'threat' offers no evidence and proves US is pulling strings in Downing Street
With the White House looking to squeeze China's strategic sectors, this new list is Beijing's way of fighting back. It might be described as tit for tat, but, in reality, it is designed to force Washington – and likely Joe Biden's new administration – to negotiate, by targeting the things the US actively needs from China.
Most specifically, China has a monopoly on the supply of rare earths – valuable metals that are essential for the construction of military and aerospace technologies. America is dependent on these imports from China, especially for its sprawling military industrial complex. Given the US wants to reaffirm the hegemony of these companies over China's markets – in particular, Boeing – it's the ideal moment to squeeze the American firms.
As Beijing has discovered, and the Trump administration has recognized, the semiconductor is China's achilles heel. US dominance of this strategic technology and its related components has allowed the Trump administration to blacklist and strangle companies such as Huawei.
This has produced a rush of research and investment in China in an attempt to catch up and become self-reliant. It is, of course, possible, but it takes time.
In the meantime, though, China's foreign policymakers are faced with the question as to how they hold their own against America's growing restrictions and how they negotiate equally without having to make humiliating concessions to the White House.
The answer is to focus on the area where the US has strategic vulnerabilities and reliance on Chinese supply chains, and that happens to be the supply of these rare earths and other strategic materials.
As a report from NBC notes, the US "depends on rare earths for the construction of equipment used in satellites, lasers, jet engines, radar and sonar systems, and other sophisticated machinery." China has established itself as the world's largest exporter of these 17 elements, and accounts for 80 percent of their production. The American war machine needs them, and the administration recognises this strategic vulnerability – Trump recently signed an executive order "declaring a national emergency" in the mining industry that focuses on "incentivizing the domestic production of rare earth minerals critical for military technologies while reducing American dependence on China."
Also on rt.com
Houston has a new problem – Beijing has fired the starter pistol on Space Race 2.0 with the launch of the Chang'e-5 lunar probe
Of course, this is easier said than done, especially when comprehensive planning and investment is needed, and there's no sign of that happening any time soon. As a result, China is now moving to assert its leverage over this sector in a way that takes direct aim at America's military industrial complex, which Washington is using to hurt China's interests.
For example, in October, Beijing announced it would impose sanctions on Boeing Defence and Lockheed Martin, both US military industrial complex firms. Given that these two companies do not do business on the ground in China, this will be done by restricting access to the supplies on which their products depend.
Xi Jinping wants to negotiate with Biden, but he needs ammunition, and this is the perfect card to play. If the US military industrial complex wants to have access to China's strategic resources, then naturally Washington must stop choking the supply of semiconductors to Huawei and blacklisting other Chinese companies.
It's worth noting that the Trump administration has always talked about "reciprocity" in US-China relations, and, with this new export control list, Beijing is playing America at its own game. It's fighting a technology war with a technology war, and some big US firms might be about to get caught in the crossfire.
Think your friends would be interested? Share this story!
The statements, views and opinions expressed in this column are solely those of the author and do not necessarily represent those of RT.
You can share this story on social media: