Trump's blacklist of Chinese firms with 'military ties' is a blatant attempt to keep Boeing king of the skies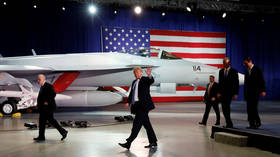 As America drafts a new list of Chinese companies that cannot do business with US suppliers, President Trump's intention is clear – to ensure Boeing remains No1 in the aviation industry, and lock out a new Shanghai-made contender.
Donald Trump may be on the way out, but he's far from finished on China. On Monday, it was announced that an additional 89 Chinese firms are to be added to a US blacklist and considered a 'national security threat' over their purported ties to Beijing's military.
The firms, almost all in the aviation sector, will be prohibited from purchasing US-made parts and technology without approval. It marks yet another escalation in the White House's technology war against China, with the Trump administration seeking to cement a legacy on the issue, which would be political suicide for Joe Biden to reverse.
But what's really at stake here? The exclusive focus on aviation is notable, and, while a link to the military is inevitable for such a sector, this isn't as much about national security as it is about big business. And, in particular, it's about preserving the global primacy of Boeing.
Also on rt.com
Asia-Pacific trade deal is a big win for China and a blow for US. America First has in fact put America Last on the world stage
As much as Chinese aviation firms are linked to China's military, so American companies are associated with the US military and, in turn, maintaining the uncontested global pre-eminence of Boeing has long been an objective of many US presidential administrations. Any competing firm, from Europe's Airbus to Canada's Bombardier, has discovered this over the years, and with China's new Comac C919 about to pose a market challenge to Boeing's 737, Washington isn't playing nice.
Boeing is arguably one of the most strategically important companies in the US. For decades, the firm has enjoyed supremacy in global aviation. We've all flown in one of its products at some point. Not only that, but Boeing is also key to America's own defense industry. It is no surprise, then, that Washington policymakers have continually sought to keep the firm top of the aerospace food chain, employing punitive tactics to do so. Any overseas competitor who threatens the firm's hegemony is met with a response from Washington that cannot be described as anything other than aggressive.
For example, it is quite obvious the US is no fan of Airbus. It has long accused the European Union of giving the company subsidies to boost its standing, a dispute which has lasted over a decade. This was at the root of Trump slapping tariffs on EU exports. Likewise, Bombardier has also faced hefty American tariffs. Yet this is restrained compared to what the US has done on occasion; for example, Washington has resorted to outright espionage against 'allied' countries, using this tactic to sabotage at least one Airbus deal. The bottom line is, if you compete against Boeing, the US may very well play dirty.
In addition to this backdrop, it's been a bad couple of years for Boeing. The Covid-19 pandemic has crashed global aviation markets and frozen new orders. Demand for aircraft isn't going to increase any time soon. In addition, the firm's reputation was badly damaged after the 737 MAX's high-profile crashes, which saw the plane grounded. Boeing is now aiming to reintroduce it. The firm desperately needs a win and the Military-Industrial Complex that backs it in Washington isn't in the mood for new competitors that might undermine its market share.
Within this context, the US isn't thrilled that China, of all countries, is launching its own challenge to Boeing, in the shape of the C919, created by Shanghai aerospace firm Comac and due to launch next year. This is bad news for Boeing, especially given that China constitutes the world's largest aircraft market, and one that is growing fast.
Also on rt.com
US' new policy roadmap on China shows how it risks isolating itself in the same way the Eastern Bloc did
Now, with more than 300 orders placed for the C919, which will almost certainly undercut Boeing in price, the US firm's market share is instantly threatened. And so, not surprisingly, the solution put forward by the Trump White House is to simply try to undermine China's aviation sector in its entirety, by locking it out from key parts and components that it depends on the US for – a brazen attempt to force Beijing to rely on Boeing purchases. China's aviation complex now essentially faces technology-related sanctions.
This, however, isn't going to buy Boeing much relief. China initiated the global pushback against the 737 MAX to begin with and, given Beijing's influence, the US needs its approval for its market share to be restored. This provides an obvious route of counter-attack. While China is still too reliant on Boeing aircraft to sanction the firm outright, it can respond by continuing to blacklist the 737-MAX as unsafe and thus dent its sales.
Irrespective of this, in the long run, US sanctions will not stop China from developing self-sufficiency in aircraft and eventually displacing Boeing at home, and in many other countries too. This is a last-gasp attempt at market protectionism by Trump, but its chances of success are slim. After all, there's little question that European aviation suppliers will be happy to fill the gap faced by 89 Chinese firms who can't buy from US companies anymore.
Think your friends would be interested? Share this story!
The statements, views and opinions expressed in this column are solely those of the author and do not necessarily represent those of RT.
You can share this story on social media: