Starmer vs Corbyn civil war shows EXACTLY why the working class stopped voting for the Labour Party a long time ago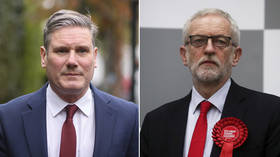 I haven't voted for over 20 years, and this week's Labour turmoil shows why. Instead of being effective opposition to an incompetent Conservative government in the middle of a pandemic, they are at each other's throats — again.
I voted in my first general election in 1987. I went with my mum, who was so very proud that we could walk to the booth together, mother and daughter using the vote which, she often reminded me, other women had died for.
Of course, like her, and almost everyone else in my North Nottinghamshire community, we voted for the Labour Party hoping that within the next 24 hours the hated Maggie Thatcher and her boot boys would be kicked out of Downing Street and Neil Kinnock would get the keys.
And immediately, there was a lesson for me — it was not about voting or democracy but settling for the lesser of two evils. It's a lesson that has been repeated time and again over the years, and is still relevant today with Labour immersed in a never-ending internal war and the Conservatives failing miserably to deal with the coronavirus.
Back in 1987, even my mum, a strong and loyal Labour Party member, a trade unionist and a socialist, had to hold her nose a little as she put the cross next to Labour's symbol of the red rose which had supplanted the red flag of socialism. There was no love for Kinnock in our house, but of course he was better than Thatcher.
Our candidate in 1987 was Frank Haynes, who had been a miner before becoming an MP. Although no one thought him perfect, he knew our community and the people he represented. By the next election, he would be gone and Geoff Hoon, a public school boy, a barrister and a professional politician would take over as Ashfield's member of parliament, representing more than 30,000 men who had lost their jobs – or were about to – as the mines closed.
In 1997, my mum held her nose again and once more hoped for the lesser of two evils to reach Downing Street. The historic Labour victory of Tony Blair was confirmed, and working-class people all over the United Kingdom lost whatever representation they might have had.
My mum continued fighting for the Labour Party until her death in 1999 (21 years ago today). I, on the other hand, stopped voting. I didn't think the Labour Party was worth fighting for – instead I engaged in my local community in St Ann's in Nottingham, an inner-city council estate where I was usually on the opposite side to the Labour politicians.
I stood side by side with my neighbours against our council, which would always be trying to close something or other down, and then in 2001 against the Labour Party's war in Afghanistan and Iraq.
During the first 15 years of the new century, it became obvious that party politics had become uncoupled from the constituents it was supposed to represent, especially in working class communities. Here, there was no representation at all, just a queue of special advisors and friends and allies of existing Labour MPs to jump into any safe seat that could get them on to the fast train to Westminster.
The economic reality of these power party politics was stark in communities in the midlands and the north, as the south-east and especially London became ever more visible, and anything beyond the capital's North Circular Road disappeared. This left vast wastelands of hopelessness, but also a realisation that the Westminster party political game did not work for working-class people.
Also on rt.com
Jeremy Corbyn reinstated in Labour Party after uproar over 'non-apology' on anti-Semitism
After the 2010 election, which left no overall majority, just a mash-up of some of the most odious and inept people from the British elite classes, I honestly felt hope for the first time in a long while. And that hope came from the beginnings of grass-roots working-class resistance and pushback against our chinless, clueless political class.
When university fees were raised to an eye- watering £9,000 a year and the educational maintenance allowance for poorer college students was scrapped, students and young people came out on to the streets to protest.
In 2011, the shooting and killing of Mark Duggan, a mixed-race man from North London, by the Metropolitan Police sparked riots up and down the country in a backlash to the rising incidences of stop and search on black men.
The beginnings of a working-class housing movement took shape, fighting predominantly Labour councils engaged in social cleansing, forcing working-class families out of major cities in order to make space for luxury flats built by international property developers. These were working-class community and woman-led protests such as Focus E15 in Stratford, East London and the Save Cressingham Gardens campaign in Brixton, South London.
After the 2015 General Election, which returned another Conservative government, the British left focused again on the Labour Party as a vehicle to enact political change, with the election of Jeremy Corbyn as leader.
The hope was that this back-bench Labour party lifer would bring peace to the Middle East, would stop Britain from entering and creating illegal colonial wars, would end university fees and would bring milk and honey to the masses. But of course, no one asked the working class whether these issues were important to them.
The left organised around this great white hope and put him and the party before anything and everything, including working-class people suffering under the boot of Labour councils and being treated as voting fodder by party apparatchiks, spin doctors, and political careerists.
And what happened? From 2015 until the present day, we've seen a Labour Party internal war. It has been dirty, irrational and ugly, with all sides keeping their eyes on the prize of 'political power'. And all the while, the working class have been left looking on, with no representation from either side, but told to keep voting as there will be 'jam tomorrow'. But as working-class people know, tomorrow never comes for them.
So while the British left and the Labour Party continue their irrational war as Jeremy Corbyn and his backers rally against Keir Starmer and his followers, opposing only each other, sucking up and squandering political energy, the British working class are left looking at their communities, and wondering how they can navigate the political system to build themselves up rather than rely on any political party.
I implore any working-class person reading this not to vote for any of them… it only encourages them. Do politics instead.
Like this story? Share it with a friend!
The statements, views and opinions expressed in this column are solely those of the author and do not necessarily represent those of RT.
You can share this story on social media: