'Dark moment for press freedom': Edward Snowden responds to Assange arrest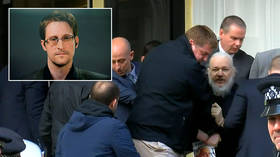 Fellow whistleblower Edward Snowden has responded to the arrest of Julian Assange in London, tweeting that the images of Ecuadorian authorities handing him over to UK police were a "dark moment for press freedom."
In the tweet, Snowden said the images of a publisher of "award-winning journalism" being dragged out of the embassy would "end up in the history books."
"Assange's critics may cheer, but this is a dark moment for press freedom," he wrote.
Assange was arrested at the Ecuadorian embassy in London on Thursday morning, just days after WikiLeaks had said his removal from the building was imminent following a withdrawal of asylum from Quito.
The whistleblower, who has released hundreds of thousands of authentic documents and diplomatic cables, had been living in exile at the embassy for the last 6 years.
Also on rt.com
WATCH Julian Assange dragged out of Ecuadorian embassy shouting 'UK must resist'
Think your friends would be interested? Share this story!