WATCH Julian Assange dragged out of Ecuadorian embassy shouting 'UK must resist'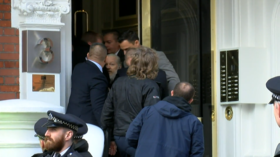 Video shows whistleblower and Wikileaks co-founder Julian Assange being carried out of the Ecuadorian embassy in London by force, before being shoved into a police vehicle.
In exclusive footage from RT's Ruptly video agency, a disheveled Assange complete with full white beard is seen being carried out of the building by several men holding him by the limbs.
Assange can be heard shouting "UK...must resist…" before his words are muffled as he is forced into a police vehicle. He will now be taken to Westminster Magistrates' Court.
Clutched in his hands was a copy of American intellectual Gore Vidal's book "The History of The National Security State," which includes the author's criticisms of the United States' security apparatus.
The whistleblower had been living in the embassy for the last seven years protected by political asylum, which was dropped earlier in the day by Ecuador.
Think your friends would be interested? Share this story!
You can share this story on social media: