Drones temporarily ground takeoffs at Dubai Airport, leaving thousands stranded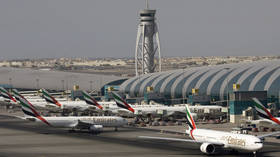 All scheduled takeoffs were grounded at Dubai Airport for about half an hour after unauthorized drones entered the airspace. Passengers stuck on runways were tweeting their frustration at the delays.
A Dubai Airport spokesperson confirmed to RT that "flight departures from Dubai International were suspended" between 10:13am and 10:45am local time due to suspected drone activity.
The airport "has worked closely with the appropriate authorities" to ensure the safety of operations, he said. Currently, Dubai Airport is operating as normal.
During the half hour in which drones were apparently in the vicinity, annoyed passengers tweeted from the runways that they were left sitting on planes, not knowing when they would be able to continue their travel.
It's not the first time that suspected drone sightings have caused flight disruptions at Dubai Airport, which is one of the busiest in the world. Dubai authorities have ordered drone owners to register with the United Arab Emirates' General Civil Aviation Authority. Hobby drone operators are also banned from putting cameras or lasers on their drones and flying in certain areas.
READ MORE: UK defenseless against 'disruptive drone attacks' at British airports, minister admits
Drone-related incidents around airports have spiked in recent years, compromising aviation safety. Shortly before Christmas, suspected drone activity caused chaos at Gatwick Airport in London, forcing flights to be canceled, disrupting travel plans for some 140,000 people. The incident was followed by drone-related disruptions at Heathrow and Newark airports.
In January, Canada introduced new regulations over the use of drones in its airspace, strictly banning them from flying near airports.
Think your friends would be interested? Share this story!