Ukrainian police launch 'I am Bandera' flash mob after Nazi collaborator's name is 'misused'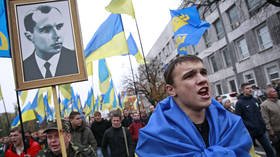 Top police officials in Ukraine have pledged allegiance to Ukraine's nationalist hero and Nazi collaborator Stepan Bandera, after an officer used his name as a slur when rounding up radical right-wing protesters.
Senior Ukrainian police officers are joining a social media flash mob in repentance for an unnamed officer shouting "Get down, Bandera" as he tackled violent protesters attempting to raid a police headquarters in Kiev.
In a video of the incident that took place on February 9, a group of officers in full riot gear can be seen pinning activists from the radical nationalist С14 group to the ground near the entrance to the police station. In the heat of the showdown, one of the people, presumably a police officer, can be heard yelling the fateful words.
The group has been notorious for violent attacks on Romany camps and has sometimes been described as neo-Nazi. The scuffles captured in the video broke out following a rally organized by Ukrainian presidential candidate Yulia Tymoshenko in downtown Kiev.
Initially a meeting between Tymoshenko and her supporters, the rally was disrupted by protests staged by C14, demanding an investigation into Tymoshenko's former party member's links to the recent murder of a female journalist. As tensions flared, police intervened and took the activists into custody to stave off provocations. During searches, police found knives, gas sprayers, and a gun.
Shortly afterwards, several dozen C14 activists headed to the police station to help the detained members break free. Police say the radicals attempted to get past the doors and were gassing officers. Police repelled the assault, detaining 24 people and seizing knives and a gun. Three policemen were injured in the clashes. While all of the thugs were later released, criminal proceedings were launched against them for using force against law enforcement, for storming a government building, and for hooliganism.
While the radicals denied that they intended to storm the police station, the General Prosecutor's Office launched an official misconduct probe into the actions of the police.
Moreover, police are now apologizing for one of its ranking members using Bandera's name in an ostensibly negative context. The flash mob has been joined by Chief of Ukrainian National Police Serhiy Knyazev as well as Chief of the Patrol Police Directorate Yevhen Zhukov.
The latter shared the 'I am Bandera' slogan on his Facebook page and wrote that he doesn't support either the call made by the officer, or the storming of government property.
Since a Western-backed coup in Ukraine in 2014, which brought current President Petro Poroshenko into power, Kiev has been set on whitewashing the image of Bandera, a divisive figure in Ukraine's history.
Also on rt.com
Now it's official: Ukraine marks birthday of Nazi collaborator Stepan Bandera (PHOTOS)
Before the German invasion of the Soviet Union in 1941, Bandera actively worked with the Nazis. However, he soon fell out with the Reich, which saw no use for him and his Organization of Ukrainian Nationalists (UPA). Bandera was arrested in 1941 and was incarcerated for three years before being released. The UPA's military wing has been accused of perpetrating mass killings of Poles and Jews during the war. Bandera's birthday on January 1 is marked with festive torch-lit processions across Ukraine every year. The day has been an official holiday since 2019.
Think your friends would be interested? Share this story!
You can share this story on social media: