Russian media covered the Yellow Vest protests; now France is investigating Russian 'interference'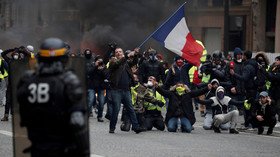 France has opened a probe into Russian "interference" in the anti-government Yellow Vest protests, with Russian media and "Russia-linked" social media accounts targeted for the grave crime of actually reporting on the crisis.
Hundreds of social media accounts supposedly linked to Russia have "sought to amplify" the still-raging French street protests, according to an "analysis" seen by the Times of London.
The source? Ryan Fox, a former NSA employee and the co-owner of an American cyber-security firm which "monitors disinformation" online and has a history of dubiously promoting nefarious Russian 'meddling' as a panacea for all Western ills.
The "network" of social media accounts in question has purportedly circulated posts which "focus on the violence and chaos" of the Gilet Jaunes (Yellow Vest) protests, churning out approximately 1,600 tweets and retweets a day. No word yet about how many non-Russia-related Twitter accounts are also tweeting and retweeting about the protests. Although, perhaps it's only Russians who are restricted from sharing information about the French civil unrest.
According to the Alliance for Securing Democracy — a unit of the US State Department-funded German Marshall Fund — about 600 Twitter accounts which have previously promoted "Kremlin views" have begun focusing their attention on France in recent weeks. While the accounts usually focus on US or British news, the anti-government protests in France "have been at or near the top" of their activity in the last week. "That's a pretty strong indication that there is interest in amplifying the conflict," Bret Schafer, a DC-based social media analyst for the think tank told Bloomberg.
Also on rt.com
Macron's European army has arrived. It goes by the name Gilets Jaunes
Another interpretation might be that massive anti-government protests shaking up France are actually just interesting and worth of attention — but apparently that is too simple an explanation for the likes of Fox and Schafer whose jobs rely solely on them finding nefarious Kremlin meddling around every corner.
A British government source also told the Times that the crisis in France had been "amplified substantially" by Russian media which had "disproportionately focused" its editorial output on reporting about the movement.
The people on this site saying Russia is behind the protests in France, while the French people are putting themselves in harm's way to simply be able to feed their families and regain some dignity are among the most corrupt, piss-brained liars twitter has ever vomited out.

— beth, an alien® (@bourgeoisalien) December 9, 2018
According to Bloomberg, much of the tweeted material and reporting comes from outlets like RT, which has been "covering the French crisis closely" — an observation which was presumably supposed to sound like a terrible insult. Imagine! The audacity of RT to closely cover the worst civil unrest France has seen in years.
Fox said Russia's main goal was to bolster a narrative of police brutality and amplify the message that "that there is a disconnect between French politicians and the working class" — something which the harrowing images of chaos and violence across France apparently weren't able to do without the help of Russia-linked Twitter accounts.
Also on rt.com
Man has hand BLOWN OFF in explosion as Yellow Vest rally descends into chaos (DISTURBING VIDEO)
French Foreign Minister Jean-Yves Le Drian said on Sunday in a radio interview with RTL that an "investigation is now underway" into possible Russian interference, but added that he would "not make comments before the investigation has brought conclusions."
Fox, Schafer and their respective crews of disinformation busters might find kindred spirits in Kiev, however, where on Sunday the SBU security service suggested Moscow was deploying "illegal terrorist armed formations" in Paris to stir unrest — a notion which Russian senator Aleksey Pushkov promptly described as "pushing the boundaries of the absurd."
"If you tried to explain to the Gilets Jaunes on the Champs Elysee that they were being organized by the Russian security services, you would at best get your face kicked in," he said.
Following media reports, Russia denied having anything to do with the French protests, with Kremlin spokesperson Dmitry Peskov saying that Moscow had "not interfered" and that reports to the contrary are "nothing but slander."
Maybe it's too simple to dismiss the notion of Russian meddling, however. A video posted to Facebook on Saturday showed Yellow Vest protesters happily playing instruments and dancing to 'On the Hills of Manchuria' — a 1906 Russian waltz, while riot police watched on. Perhaps they were all under the influence of sneaky subliminal pro-Russia messaging in the form of song and dance.
Subscribe to RT newsletter to get stories the mainstream media won't tell you.
You can share this story on social media: