'Coded messages? Bots?' WATCH Rick Sanchez poke at new NYT 'disinformation' claims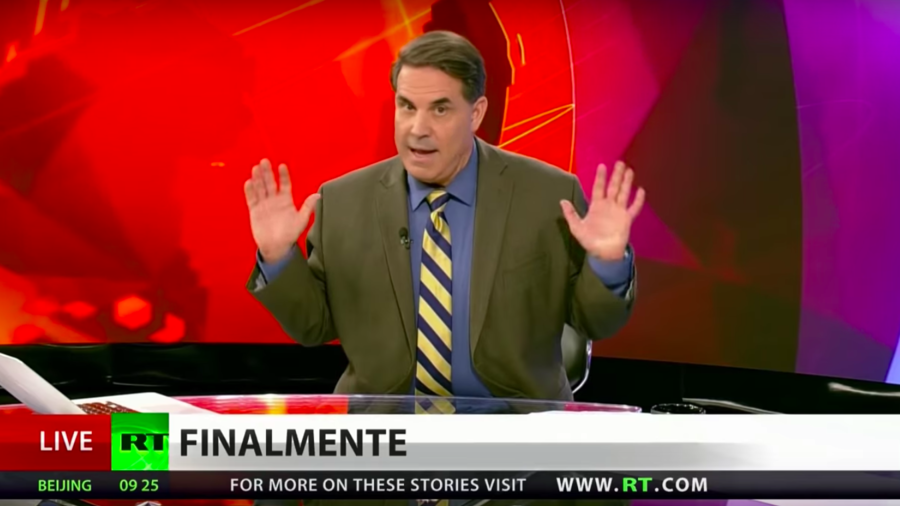 Cybersecurity 'experts' writing for the New York Times have claimed that online Russian "influence operations" targeted the US midterm elections in October. The proof? Lots of people posted links to RT's content.
Indeed, that is the only evidence of Russian social media "interference" offered in an op ed written by Jonathan Morgan and Ryan Fox, who co-run a cybersecurity company which "monitors disinformation."
Picking apart this spurious reasoning, Rick Sanchez, who hosts The News on RT America, painted a slightly less dramatic picture of what it's actually like work at the network. Spoiler: No bots or spying involved.
READ MORE: Midterm madness shows US media more divisive than the American people
"I come here every single morning during our editorial meetings with an assortment of writers and producers…," Sanchez said.
We argue with each other, we disagree sometimes, some lean left, some people lean right — you know, typical conversation about what the day's news is and how we're gonna cover it...but man, coded messages? Bots? Really?
Morgan and Fox say they have detected more "overall activity" from continuing Russian influence campaigns than social media companies have revealed or that other researchers have been able to identify. Impressive. So how did they do it?
The intrepid researchers tracked 110,000 social media posts that referenced any US midterm election candidate, topic or hashtag which contained a link to RT (and a couple of other Russian "influence" websites) in the month of October — and, well, that's all really.
"I write every word that I read on this newscast. I'm a huge believer that I as an independent journalist have to protect that, which I've practiced by the way at NBC and at CNN and at Fox and at Univision," Sanchez added. "So somebody is sneaking something into this newscast that I don't know about? Really? Man, they're really good."
But Morgan and Fox are insistent that impressionable Americans are "unwittingly sharing Russian propaganda" on their social media platforms and perhaps "even millions" of them have engaged with such mind-altering content online. "We must remain vigilant in the face of confirmed Russian efforts to undermine our democracy," they write.
Now, not to rain on anyone's parade here, but trying to paint tweets with links to RT as some kind of big nefarious influence operation seems like a little bit of a stretch — perhaps even a cheap PR stunt for a company, which just closed an $11 million funding deal in August to help it fight "disinformation campaigns" online.
Subscribe to RT newsletter to get stories the mainstream media won't tell you.
You can share this story on social media: