Money for bombs but not for aid? Millions of Iraqis destitute 1yr after victory over ISIS (VIDEO)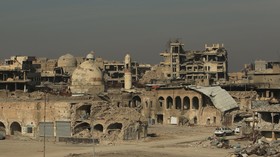 Millions of Iraqis are still struggling to rebuild their lives one year after Baghdad declared victory against Islamic State, a Norwegian NGO has warned, stressing that many Iraqis feel "abandoned" by the international community.
More than 1.8 million Iraqis are currently displaced and an astonishing 8 million require some form of humanitarian aid, the Norwegian Refugee Council (NRC) said in a statement. It followed the first anniversary of Prime Minister Haider al-Abadi's announcement that Iraq had achieved final victory over Islamic State (IS, formerly ISIS).
Also on rt.com
'Stench of countless decaying bodies everywhere':  RT reports from Mosul months after victory
Regrettably, the international community seems less interested in the fate of Iraq now that IS has been pushed out of the country, Tom Peyre-Costa, NRC's Iraq Media coordinator, told RT.
"It is essential that the international community invests as much in the reconstruction and stabilization of the country as they did in the fight against Islamic State," Peyre-Costa said.
It's unacceptable to think that millions can be spent on bombs but not on humanitarian aid and reconstruction.
He added that many of the displaced Iraqis that he's spoken with say they feel "abandoned" by the world. While IS may have lost its foothold in Iraq, the work to restore the war-torn lives of millions of Iraqis is "far from being done," Peyre-Costa noted.
Like this story? Share it with a friend!
You can share this story on social media: