'This is for the boys!' Video allegedly shows Su-25 pilot's last stand with grenade explosion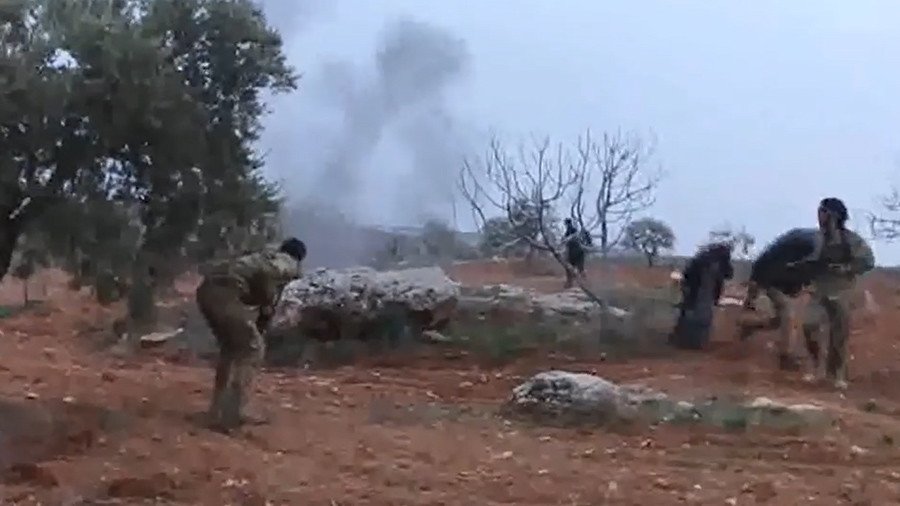 A video claiming to show the last stand of the Russian Su-25 pilot shot down over Syria Saturday has emerged online. It shows Arabic-speaking militants chasing a man who shouts a phrase in Russian before setting off a grenade.
The video, which first surfaced on an Arabic-language YouTube channel titled IDLIB+, shows armed militants moving in on the pilot's position. The setting – a big rock surrounded by barren trees and brownish soil – appears to match that of an earlier video purporting to show the militants celebrating with the pilot's dead body.
As the militants surround the pilot, a man's voice is heard shouting in Russian "This is for the boys!" It is followed by a bang and a column of smoke is seen rising from behind the rock. It's not clear whether any militants were killed or wounded in the blast.
Earlier, the Russian Defense Ministry confirmed that the pilot, identified in unofficial sources as being Major Roman Filipov, was killed "during combat with terrorists." Filipov's plane, a Su-25 jet, was downed over the province of Idlib in Syria Saturday. Filipov managed to survive the crash by ejecting out of the plane, but was then killed fighting terrorists on the ground.
READ MORE: Commando op underway at crash site to trace MANPAD rocket origin – Russian MP
You can share this story on social media: