US charges against Huawei executive stem from 2013 – bail hearing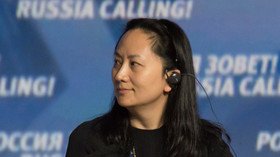 Washington's charges against Huawei executive Meng Wanzhou are linked to a 2013 case, it's been revealed – raising the question whether her sudden arrest amid a truce in the US-China trade war is a thinly-veiled sneak attack.
Court papers from the bail hearing of the Huawei CFO in Canada show the charges against her go back at least five years. Meng is being accused of violating US sanctions against Iran and deceiving banks to do so, and faces extradition to the US.
Just about every media outlet in Canada and every major international media company is waiting to get into #Vancouver court, where bail hearing for #Huawei CFO Wanzhou Meng's extradition to the US is expected to begin in about 20 minutes. pic.twitter.com/h11A49C3hP

— Mike Hager (@MikePHager) December 7, 2018
Meng allegedly used a fake English name and served on the board of a Huawei subsidiary company called Skycom (though the relationship between the two firms has not been proven). In 2010, Skycom was caught attempting to smuggle embargoed cellphones into Iran, and in 2013 Meng allegedly lied to US banks that she had no links to Skycom.
If convicted, Meng could face up to 30 years in prison for each charge of conspiracy to defraud financial institutions, despite that some of the alleged fraud victims named never even pressed charges. Her bond request was debated in a Canadian court Friday, pending her extradition to the US. Prosecutors claim that she is a flight risk due to her family's immense wealth, while the defense points out that Meng has resided with her husband and children in Vancouver for years, and had obtained permanent residence status. The hearing has been adjourned until Monday.
Martin outlining Meng's links to Canada including her former permanent residency status and her husband and several kids living here in Vancouver. Also the purchase of a home in Dunbar in 2009. "There is a consistent involvement of this family in life in Vancouver."

— Keith Fraser (@keithrfraser) December 7, 2018
It's unclear why it took the US five years to take any serious action against Meng, – an issue raised by her defense, – but her arrest comes less than a week after the US and China announced a 90-day truce in the ongoing trade war – and threatens to send it crumbling. With Washington's previous allegations that Huawei has direct links to the Chinese government, it's not a big stretch to assume Meng's case is another trade war offensive, perhaps a hostage-taking. Beijing has demanded that she be released "immediately", and Moscow slammed Washington's "arrogant, jingoist policy."
Huawei seems to have caught wind of the fact that the case could get much broader than just Meng. US authorities say the company has started recalling US-based employees who could serve as witnesses in the supposed Iran sanctions violations case, and executives began avoiding travel to America as early as April 2017, upon learning of the investigation.
Washington has been accusing Huawei of using backdoor programs in the companies' phones to engage in espionage. While unproven, the allegation was enough to take action against the company, including a ban on Huawei products in US military bases in May. The company responded to the incident saying: "no government has ever asked us to compromise the security or integrity of any of our networks or devices."
An investigation into Huawei's alleged violations of US sanctions against Iran has been going on since at least 2016, Reuters reported in April. Back then, the JCPOA international deal on Iran was still in effect, ensuring sanctions were actually lifted from Tehran, including American ones.
Think your friends would be interested? Share this story!
You can share this story on social media: