'Arrogant jingoist policy': Lavrov blasts Washington's request to arrest Huawei CFO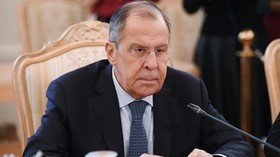 Washington's "revolting" policy of stretching its own criminal laws to other countries' territories has to end, Russia's Foreign Minister Sergei Lavrov said as Huawei's top executive faces extradition to the US.
Lavrov slammed America's habit of applying its laws "extraterritorially" and dubbed it "revolting to the vast majority of normal states and normal people."
The minister's outrage follows the recent arrest of Huawei's chief financial officer, Meng Wanzhou in Vancouver, Canada.The businesswoman, who is also the daughter of the company's founder, was apprehended on Sunday at the request of the US, and is now facing extradition. The charges levied against Meng remain unknown, but it is believed they relate to possible violations of US sanctions placed on Iran.
Also on rt.com
'Clarify and release immediately', Beijing demands after Canada detains Huawei CFO on US request
Talking to reporters at an OSCE event in Milan, Lavrov said that Washington's approach has no support in the world and alienates the US' own partners.
It's an arrogant, jingoist policy no one accepts. It already sparks rejection even amongst the US' closest allies. It has to end.
Chinese diplomats protested Meng's arrest, saying that she didn't violate any US or Canadian laws.
The Foreign Ministry's spokesperson, Geng Shuang, demanded that Washington and Ottawa clarify the reasons behind the executive's detention and "immediately" release her. Chinese officials also said that the arrest itself "seriously harmed the human rights of the victim."
Think your friends would be interested? Share this story!
You can share this story on social media: