Facebook spied on Android users' calls & texts while pretending to care about privacy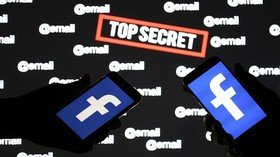 Facebook tried to conceal that it was secretly vacuuming up call and text logs from Android users without their permission, newly-released internal documents have revealed.
The hundreds of pages of documents, which were previously sealed as part of an ongoing legal case with a now-defunct app developer called Six4Three, were released yesterday by the British parliament — and they confirm once again that Facebook is more than willing to sacrifice user privacy for company growth.
Writing in an email to colleagues, Facebook engineer Micheal LeBeau acknowledged that it was a "pretty high risk thing to do from a PR perspective" but said it "appears the growth team will charge ahead and do it" anyway.
Also on rt.com
Facebook seeks to block US spying lawsuit from top EU court
Kwon wrote in an internal email that the "growth team" was "exploring a path" where Facebook would "only request Read Call Log permission, and hold off on requesting any other permissions for now."
"Based on their initial testing, it seems this would allow us to upgrade users without subjecting them to an Android permissions dialog at all. It would still be a breaking change, so users would have to click to upgrade, but no permissions dialog screen," he wrote.
In actual English, that means Facebook was trying to make it as difficult as possible for users to be aware of what they were doing with personal call and text data. Publicly, however, Facebook adamantly denied it was obtaining call and text logs without user permission.
I think the most amazing thing about today's FB doc dump was the fact that the company's "privacy sherpa" took part in a conversation about undermining user privacy through trickery https://t.co/Y1dCvAgq8X

— Sam Biddle (@samfbiddle) December 6, 2018
Damian Collins, the Conservative Party MP who chairs the parliamentary committee that released the documents, said Facebook was well aware that the changes to its policies on the Android system would be controversial.
"To mitigate any bad PR, Facebook planned to make it as hard of possible for users to know that this was one of the underlying features of the upgrade of their app," he said.
I went through the Facebook emails released today. The big takeaway is that Facebook is a mission-driven company, and that mission is making as much money and growing as fast as possible. https://t.co/YsKTUQO7v4

— Kevin Roose (@kevinroose) December 5, 2018
Collins said that releasing internal Facebook emails was in the "public interest" as they raised important questions about how the company treats user data, its policies for working with app developers, and "how they exercise their dominant position in the social media market."
Responding to a Motherboard report which called the document dump "devastating" for the company, Facebook said that the documents released this week "are only part of the story and are presented in a way that is very misleading without additional context."
Facebook said it "always" considers "the best way to ask for a person's permission" and that the email exchanges in question were "not a discussion about avoiding asking people for permission."
Also on rt.com
'Facebook has never cared' about privacy: Cambridge Analytica app developer
In a meandering 623-word non-apology posted on Facebook itself, CEO Mark Zuckerberg said the level of scrutiny around how Facebook operates was "healthy" and "right" when you consider the number of people around the world who use the service.
"But it's also important that the coverage of what we do — including the explanation of these internal documents — doesn't misrepresent our actions or motives," he wrote.
Facebook has recently found itself under the spotlight for alleged privacy abuses. In March, a whistleblower said that Facebook had allowed Cambridge Analytica, a shady British data-mining firm, to harvest private information from millions of its users without their consent.
Like this story? Share it with a friend!
You can share this story on social media: