Beijing demands Washington stops 'provocations', scolds US for South China Sea sail by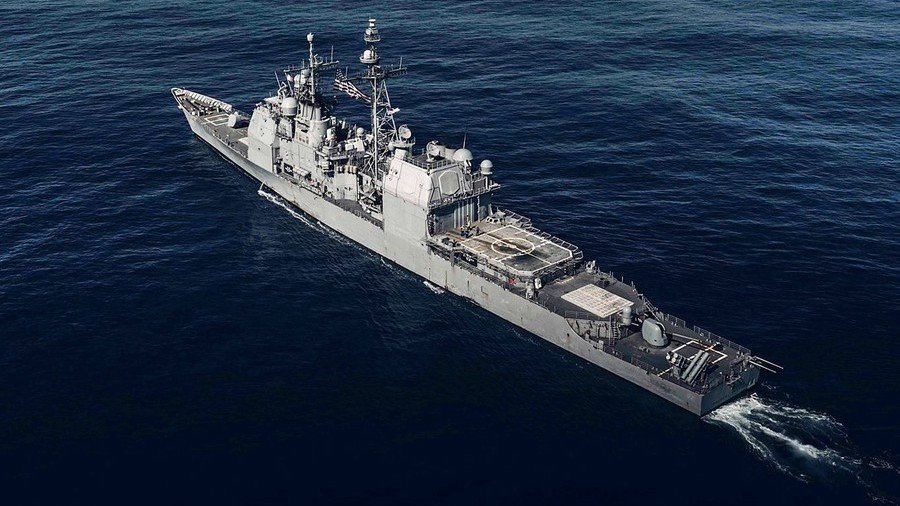 Beijing has demanded the US to cease "provocative actions" that undermine Chinese security and sovereignty. The ire was drawn by a US guided missile destroyer sailing close to the disputed islands in the South China Sea.
USS Chancellorsville conducted a "freedom of navigation operation" near the South China Sea's Paracel islands on Monday, the US Navy confirmed. The stated aim was "to challenge excessive maritime claims."
Yet, Beijing had a bone to pick with Washington on that, having scrambled warships and demanding the Ticonderoga-class cruiser immediately leave the zone.
On Friday Chinese foreign ministry spokesman Geng Shuang called on Washington to "immediately stop such provocative actions that violate China's sovereignty and threaten [its] security."
The US should also "strengthen the management of its vessels" in order to prevent "unexpected events," a People's Liberation Army representative cautioned, without going into detail.
The islands and waterways in the South China Sea have long been a the center of territorial disputes among a number of states, including China, Vietnam, the Philippines, Indonesia, Malaysia and Brunei.
While Washington is not one of the claimants, Beijing has still repeatedly locked horns with the US over the matter. In particular, the latter and its regional allies are regularly conducting so-called "freedom of navigation" operations (sail through or fly overs) near the disputed territories, claiming that it's not in violation of international law. This is being contested by China, which labels the actions as clear provocations.
Also on rt.com
Beijing slams US military 'provocations' after B-52 bombers fly over South & East China Seas
Just recently, Chinese leader Xi Jinping told the country's military to get "prepared for war," hinting that Beijing may be bracing for a worst-case scenario.
The latest spat also came before both leaders headed to the ongoing G20 summit in Argentina. Whether the issue will be touched by the country's leaders there remains a question.
Yet, the South China Sea is not the only stumbling block between the nations. The US is currently engaged in a full-blown trade war with China, which resulted in both sides imposing tariffs and other restrictions on each other's products.
Like this story? Share it with a friend!
You can share this story on social media: