Beijing slams US military 'provocations' after B-52 bombers fly over South & East China Seas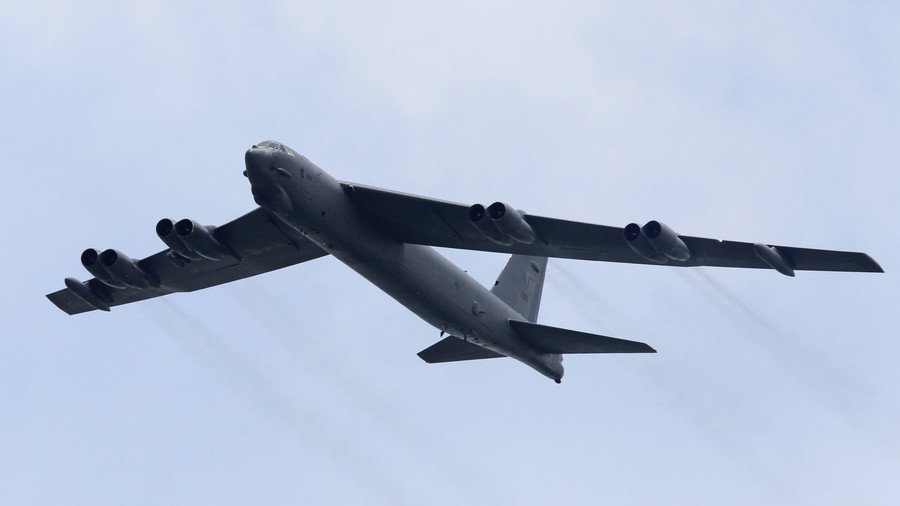 China said it is opposed to US jets taking "provocative actions" in the disputed South China Sea, a day after Washington confirmed that its B-52 long-range bombers flew near the contested territories.
On Tuesday, a group of B-52 bombers "participated in a regularly scheduled, combined operation in the East China Sea," Pentagon spokesman Lieutenant Colonel Dave Eastburn revealed on Wednesday. The maneuvers by the US, which were accompanied by Japanese fighter jets, reaffirmed the US' "continuous bomber presence" in the region.
Also on Tuesday, B-52s flew over the South China Sea, another highly-contested waterway. According to Eastburn, the bombers conducted routine maneuvers in "international airspace."
READ MORE: 'Here to stay'? US B-52 bombers fly near disputed South China Sea islands
The drills did not sit well with Beijing. During a press conference on Thursday, China's Defense Ministry called the US actions "provocative" and said it "opposed" any such moves. "Regarding the provocative actions of US military aircraft in the South China Sea, we are always resolutely opposed to them," the ministry's spokesman Ren Guoqiang said.
Asked if the B-52 maneuvers could further inflame tensions with China, Defense Secretary Jim Mattis said there was "nothing out of the ordinary about it, nor about our ships sailing through there."
The South China Sea is the subject of conflicting claims by a number of countries, including China, Vietnam, the Philippines, Indonesia, Malaysia, and Brunei. The US has been sending its vessels and jets, explaining that it carries out patrol missions in the disputed area, repeatedly causing outcry from Beijing.
While Washington says that its intensified military presence in the area is perfectly aligned with international law, regular flyovers and "freedom of navigation" maneuvers by US ships have drawn anger from Beijing. China regards any hostile flyovers over the islands as an encroachment on its sovereignty. In June, high-ranking Chinese General He Lei said that China sees "any other country that tries to make noise about this as interfering in [Chinese] internal affairs."
In May, China's Ministry of Defense slammed the US for deploying two of its military warships near the Paracel Islands. Chinese officials did not mince words, calling it an infringement upon the country's sovereignty.
The latest case with the B-52 flyover comes at a time of heightened tensions between the US and China, which have been embroiled in a bitter trade dispute. The latest set of tit-for-tat tariffs targeted $260 billion worth of goods, while the ongoing trade negotiations are yet to bear any fruit.
Think your friends would be interested? Share this story!
You can share this story on social media: