'Here to stay'? US B-52 bombers fly near disputed South China Sea islands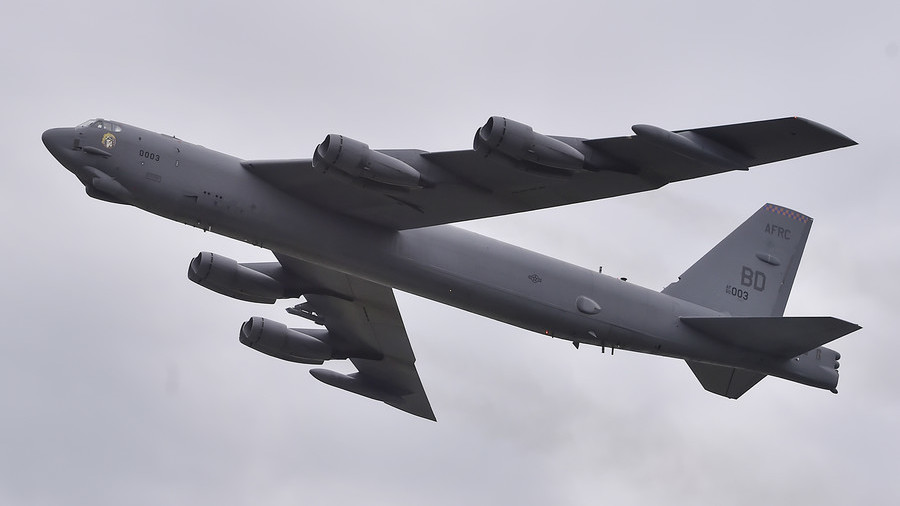 The US military sent two nuclear-capable B-52 bombers to fly over the disputed Spratly Islands amid tensions with Beijing. The "routine" mission occurred days after a Pentagon chief said "America is to stay" in the Indo-Pacific.
The two US Boeing B-52 Stratofortress bombers took off from a Diego Garcia navy facility located on a small island in the Indian Ocean to conduct "a routine training mission" in the vicinity of the South China Sea, before returning to the base, a spokesman for the Pentagon told CNN.
The flyover took place on Tuesday, mere days after Defense Secretary Jim Mattis used his speech in Singapore to warn China against militarizing the islets. He accused Beijing of "intimidation and coercion" in the area, which starkly contrasted with the "openness" promoted by the US, and pledged its continued presence. Mattis had also reaffirmed the US intention to ensure military support of Taiwan's secessionist ambitions.
"Make no mistake," he said, "America is in the Indo-Pacific to stay. This is our priority theatre, our interests and the region's are inextricably intertwined."
Meanwhile, US officials are pressuring international allies to beef up their military presence to counter that of China, as Beijing is strengthening its capabilities on the Spratly and Paracel islands.
The Pentagon said it was considering intensified naval patrols in the South China Sea, emphasizing that these patrols would have to be longer ones and involve larger numbers of ships, allowing the US military to closely observe Chinese facilities in the area.
Mattis's recent provocative statements drew a swift reaction from Beijing, with Lieutenant General He Lei arguing in response that China had a "sovereign and legal right" to "place army and military weapons" in its South China Sea holdings. Speaking at the Shangri-La Dialogue in Singapore, He Lei also stressed that the country wouldn't tolerate what he called 'meddling' in Chinese affairs.
"We see any other country that tries to make noise about this as interfering in our internal affairs," he said, adding that it is those who cry out militarization that are actually militarizing the South China Sea.
Earlier in May, China's Ministry of Defense condemned the US for having deployed two of its military warships in the country's territorial waters only 12 nautical miles away from the Paracel Islands. Chinese officials called the move a "provocation" that imperiled the country's sovereignty.
READ MORE: US warships sail near disputed South China Sea islands
Beijing developed military infrastructure in the South China Sea by building up seven islets in the Spratlys as its military outposts, three of which have military-grade airfields, and landed bombers in the Paracel islands as part of a training exercise. Malaysia, Vietnam, the Philippines, and Taiwan also have territorial claims over the area.
If you like this story, share it with a friend!