Berlin demands that Kiev act after Ukrainian nationalists put ex-chancellor Schroeder on 'hit list'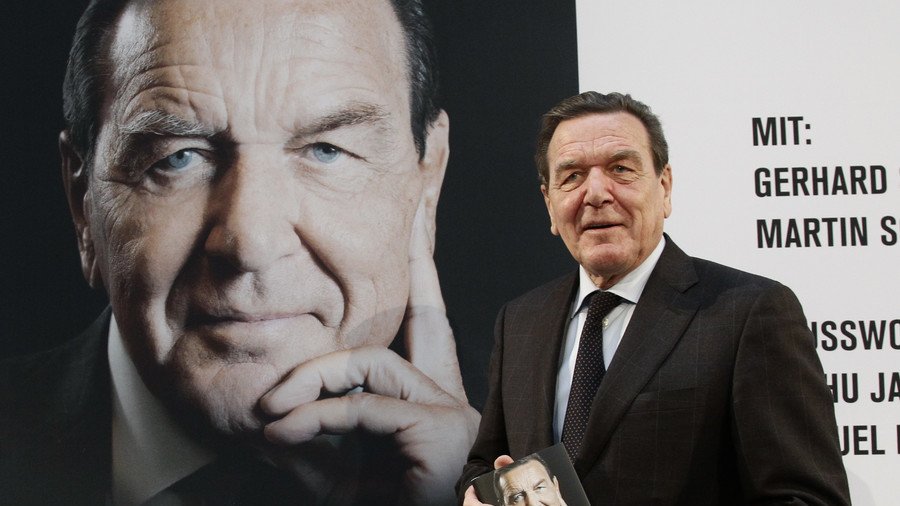 Outraged Germany has demanded that Kiev take down an ultra-nationalist website that tracks the alleged enemies of Ukraine –some of whom ended up dead– after the group placed former chancellor Gerhard Schroeder on its 'hit-list'.
The inclusion of Schroeder in the database of traitors who must be dealt with, according to the authors of the notorious Ukrainian website Mirotvorets (Peacekeeper), was "unequivocally" condemned by Berlin. "We have insisted in the past that the Ukrainian government should work to take down this website, and we are doing so now," a Foreign Ministry spokesperson told Die Zeit on Wednesday.
Schroeder, who led Germany from 1998 to 2005 and later moved on to work in Russian state-owned energy companies, was blacklisted by the website for supposedly "legitimizing" the "Russian occupation" of Crimea and "justifying the military aggression" of Russia against Ukraine.
Crimea voted to rejoin Russia in 2014, following a bloody coup in Kiev. The Crimean referendum was rejected by Ukraine, and the politicians in Kiev have vowed to return the peninsula to Ukrainian control. Speaking to the German paper Aachener Nachrichten, Schroeder voiced his opinion that this won't happen any time soon.
"Do you seriously believe that the Russian president will reverse this decision [to accept Crimea into Russia] in the future? One day you'll have to acknowledge this reality," the former politician said. He also reminded the paper's readers of a well-known historical fact: Crimea used to be a part of Russia until 1954 when then-Soviet leader Nikita Khrushchev transferred it to Ukraine, while both entities were still part of the Soviet Union.
It was that very interview that likely got Schroeder listed as "anti-Ukrainian," German media reported. The ex-chancellor's wife, Soyeon Schroeder-Kim felt "very worried and outraged," having learnt that her husband was included in the database which lists people Ukrainian nationalist politicians and activists consider enemies of the state.
"We don't understand such attacks on a democratic politician, especially a former chancellor," Schroeder-Kim told RND.
Launched in 2014, 'Mirotvorets' styles itself as an outlet exposing people who commit "crimes against the national security of Ukraine, peace, humanity and the international law." Such "crimes" include things like visiting Crimea without Kiev's approval, or just simply criticizing the Ukrainian government or, conversely, publicly supporting Moscow's position.
Over the years, the list of designated 'enemies of the state' grew to several thousand people, including opposition politicians, human rights activists, bloggers, journalists, filmmakers and even various pop singers. Sometimes, the website blacklists world famous celebrities, like British rock legend Roger Waters or US-born boxer Roy Jones Jr. who became a Russian citizen two years ago.
When adding someone to the 'blacklist,' the website usually leaks the person's personal data, such as home address, phone and place of work. The project gained extra notoriety when two prominent figures – journalist and writer Oles Buzina and former lawmaker Oleg Kalashnikov – were murdered in Kiev after their profiles appeared on the website.
German officials aren't the only ones who blasted 'Mirotvorets.' In 2016, it released the private information of around 4,000 journalists – with reporters of BBC, CNN and RT among them – in a move condemned by the EU ambassador to Ukraine. Last month, the website blacklisted more than 300 officials from the nation's western Zakarpattia Region, which contains a sizable Hungarian minority. Budapest, in turn, slammed Kiev, demanding the controversial database be shut down.
The Ukrainian government denies any ties to the project, and claims that it can't take its website down since its servers are located abroad. At the same time, 'Mirotvorets' had been linked with high-profile lawmaker Anton Gerashchenko. The former adviser to the interior minister had endorsed the project and often makes statements on its behalf.
Think your friends would be interested? Share this story!
You can share this story on social media: