'Dishonesty… shameful… betrayal': Brexit backers angry at May's 'deal' with EU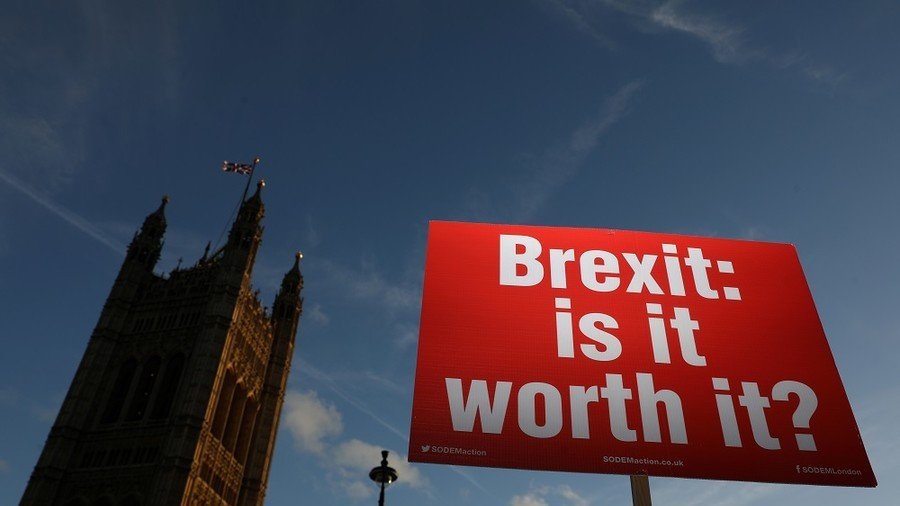 The agreement reached by the government of Prime Minister Theresa May to take the UK out of the EU has angered many supporters of Brexit, who are calling it a shameful surrender and betrayal of the 2016 referendum.
After 10 Downing Street announced that most of May's cabinet backed the deal she hammered out with Brussels and published the nearly 600-page document, advocates of a negotiated split from the EU were furious.
READ MORE: Draft Brexit plan approved by British cabinet, released to public
Nigel Farage, former UK Independence Party (UKIP) leader called it"the worst deal in history" and urged any genuine Brexiteers in the cabinet to "resign or never be trusted again."Other reactions posted on social media were no kinder.
"May must be an imbecile if she thinks people will accept this is leaving. Nothing has changed. We've just lost 40 billion pounds," wrote Twitter user John DeVries.
"I'm shocked. Theresa May has promised again and again to deliver Brexit. She hasn't. Democracy died today in the United Kingdom. A shameful, shameful legacy Theresa May has left behind," wrote Lucy Harris, head of the group Leavers of Britain.
"Today we learned our votes do not matter," wrote Josephine Formby. "This is an utter betrayal, a shameful humiliating disgrace. May has no mandate to sell our sovereignty. This has to be stopped," she added, with a hashtag #MayMustGo.
"The British people will never forgive this dishonesty," wrote Joe Porter, a pro-Brexit Tory organizer.
Writer and Labour supporter Harry Leslie Smith was even more glum, writing that May's decision "brings Britain closer to a dissolution of its union of nations," alluding to potential separation of North Ireland and Scotland.
With May's deal making special provisions for Northern Ireland and ignoring Scotland, it is fueling fears that the UK will break up as a result.
Not all was gloom and doom, however, as many chose to react to the news with typical British humor.
Think your friends would be interested? Share this story!
You can share this story on social media: