'The tongue kills like a knife': Pope Francis equates gossiping with terrorism
Published time: 14 Nov, 2018 16:32
Edited time: 15 Nov, 2018 09:48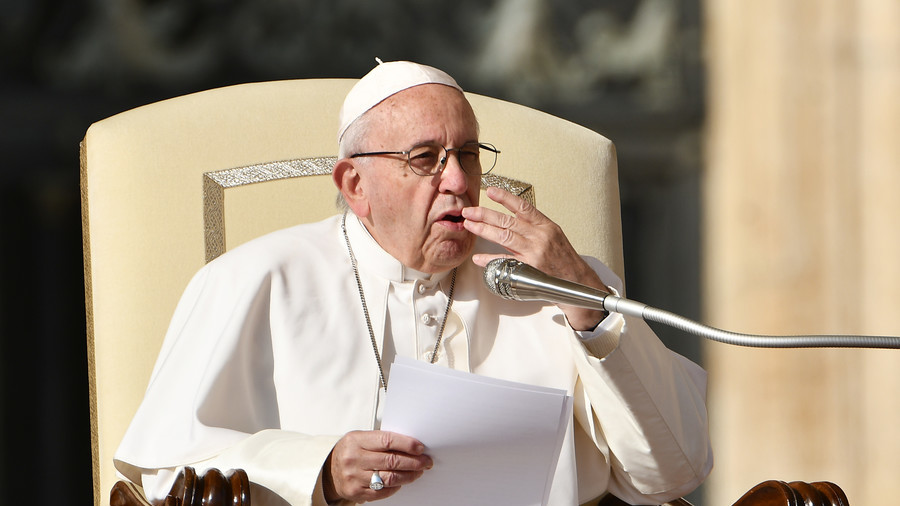 In a strongly worded warning, Pope Francis decried gossip as a form of "terrorism" which ruins reputations, and said that fake news is a modern day scourge of the church faithful.
During his Wednesday address to the general public in St. Peter's Square, the Pope explored the eighth commandment, "Thou shalt not bear false witness against thy neighbor."
"We all live by communicating, and we are continuously on the edge between truth and lies," Francis said, adding that misinformation is inherently dangerous "because the tongue kills like a knife."
The media-savvy pontiff is known for using hyperbolic speech to emphasize a point, and potentially steal a few headlines in the process, especially as his church is beset with a growing number of child sex abuse scandals.
He went one step further on Wednesday in reiterating previous remarks in which he equated gossipers and liars to terrorists: "Gossipers are terrorists because with their tongues they drop a bomb and then leave, and the bomb they drop destroys reputations everywhere."
"Don't forget: to gossip is to kill," the pope warned.
From South America, to the US, and across Europe, more and more abuse survivors are coming forward, forcing the church to pay over $4 billion in compensation worldwide.
READ MORE: German Catholic Church abused thousands of children, rape in every 6th case – leaked study
The Pope tweeted later on Wednesday that Jesus requires absolute, unwavering faith and that loving Jesus is a case of "all or nothing" for Catholics around the world.
Jesus is not pleased with a "percentage of love": we cannot love him at twenty, fifty or sixty percent. It's all or nothing.

— Pope Francis (@Pontifex) November 14, 2018
However, many online saw the Pope's strongly worded message as a potentially veiled swipe at abuse survivors, or a cynical attempt to shift news coverage away from the multiple sex scandals and alleged cover-ups recently revealed.
Yes. How does Jesus feel about the behavior of the church hierarchy? I'm sure He's disgusted like the rest of us....

— christine (@17yorkiep) November 14, 2018
Just keep those children from being abused! I think that matters too!

— Chico's Rants (@ChicoRants) November 14, 2018
"You might want to criticize the Holy Father for being repetitive, but this is important to me," Francis told a congregation of clergy and the faithful in Bangladesh late last year when he criticised gossip.
In January of this year, Pope Francis described gossip as a "bomb" while addressing a group of 500 nuns in Peru. Peru had been gripped by a child sex abuse scandal, with the Pope ordering the takeover of an elite Catholic society there, after its incumbent leader was put on trial for child sex abuse.
READ MORE: 'This is for the little kids': Indiana priest assaulted as Catholic child abuse scandal unfolds
Think your friends would be interested? Share this story!