Trump 'bashes' UK's May after she calls to congratulate him on midterm results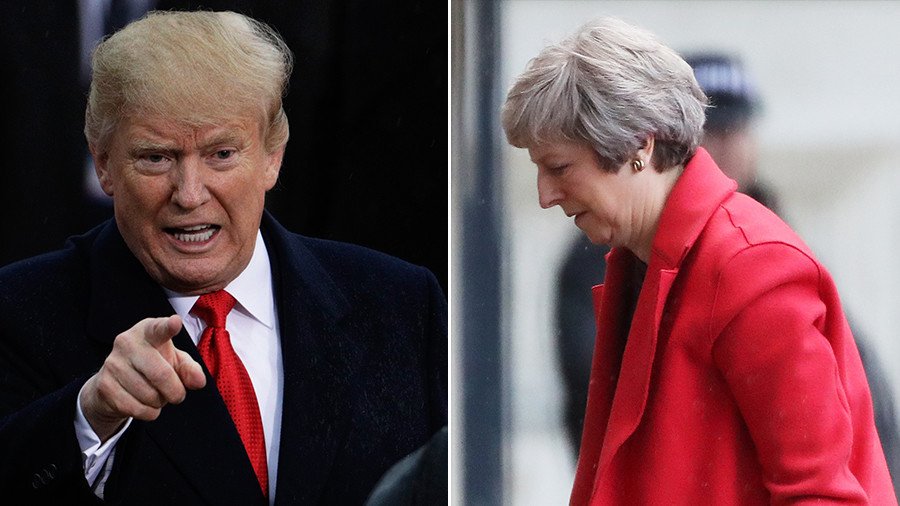 Donald Trump's turbulent European visit started with an "acrimonious" conversation with British Prime Minister Theresa May, who called to celebrate the Republican wins in the midterm elections, a Washington Post report claims.
The conversation, which was never officially reported by either side, came on Friday as Trump was travelling to Paris aboard Air Force One, the newspaper claims citing anonymous sources. Trump, who was allegedly in a foul mood, berated May over Britain not doing enough to support his anti-Iranian agenda, questioned her handling of Brexit negotiations and recounted his grievances about what he sees as unfair trade relations between the US and European nations.
Theresa May called Trump Friday to congratulate him. She got berated. Macron got the surly treatment. So did White House aides over the skipped ceremony. On the flight home, they just tried to convince him not to fire people. But that might happen too. https://t.co/oNGSpi8lXl

— Josh Dawsey (@jdawsey1) November 14, 2018
The episode was not the only one that marred Trump's visit to mark the centenary commemoration of the end of World War I. Others were quite public, like Trump's verbal sparring with the host, French President Emmanuel Macron, and the PR disaster, which was the US President's decision not to attend a ceremony honoring military sacrifices made during the war. The report implies Trump's moods were spoiled before the trip by several events at home, including the Democratic Party's takeover of the House.
The UK and the US share what is often called "special relations" – a longtime alignment of foreign policies with Washington playing the leading role. Trump's meeting with May, during his visit to Britain in July, was a mixture of public assurances that the relations remained strong as ever, undiplomatic criticisms from the visiting American leader and public protests against him.
Trump is well-known for his habit of publicly berating foreign leaders and their policies, which he does not like, regardless of whether or not the countries they represent are allied with the US. He may not have invented a humiliating nickname for Germany's Angela Merkel the way he did with North Korea's Kim Jong-un but he was all too eager to call Germans 'prisoners' of Russia over the country's reliance on Russian natural gas.
The July European tour, which included a major NATO summit, also gave Trump an opportunity to bash fellow European allies for allegedly not pulling their weight in the alliance. He later celebrated as his personal victory NATO members' pledge to continue ramping up defense spending in accordance with their earlier commitments.
Think your friends would be interested? Share this story!
You can share this story on social media: