'Did he forget the American Revolution?' Twitter gives Trump a history lesson after France insults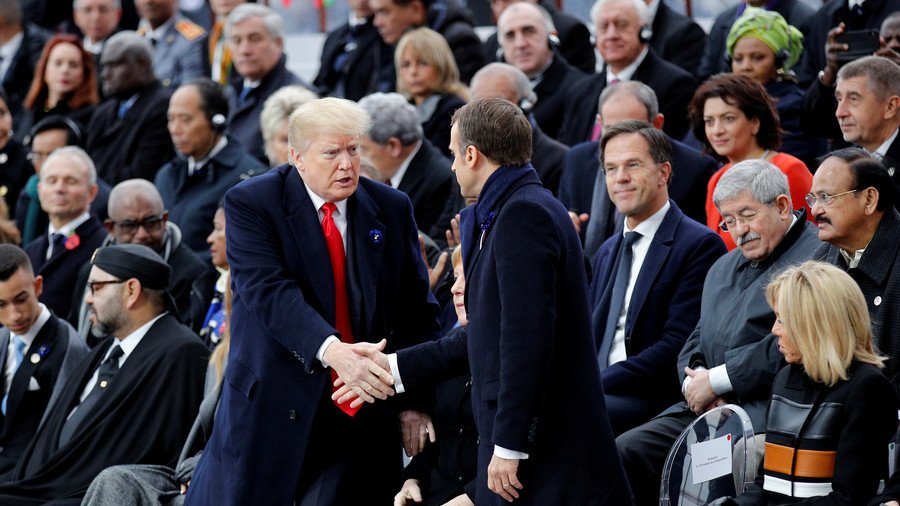 US President Donald Trump's early morning Twitter jibe at France over its historical war losses to Germany was met with ridicule on Twitter, with many reminding him that France played a crucial role in the American Revolution.
Shortly after Trump returned to Washington, DC from Armistice Day commemorations in Paris, he took aim at France, writing that people were "starting to learn German in Paris" before the United States entered World War II. Trump also mocked French President Emmanuel Macron personally, tweeting that he "suffers from a very low approval rating in France."
Former Belgian Prime Minister Guy Verhofstadt quickly hit back at Trump, tweeting that "without French money, the USA would not even exist" since it was France that financed the American Revolution.
"They even gave you the Statue of Liberty to celebrate this," he added, with a winking emoji, referring to the fact that the iconic statue was a gift to the US from France commemorating the historic alliance.
Other tweeters also slammed Trump on his somewhat "incomplete understanding of history."
Some pointed out that "keyboard warrior" Trump waited until he was back in Washington DC before personally attacking Macron instead of telling him how he felt to his face, while others recalled that Trump himself dodged the Vietnam draft so might not be the best person to mock others' losses.
Some also pointed out that Trump had let loose on France on the third anniversary of deadly terror attacks in Paris.
Trump's ire at Macron was sparked when the French president earlier called for the creation of a European army to defend itself instead of "relying only on the United States" — a suggestion which Trump had found "very insulting."
Doubling down on Macron's comment, French Finance Minister Bruno Le Maire even went so far as to suggest that Europe should establish itself as an "empire" to compete with China and the US.
Like this story? Share it with a friend!
You can share this story on social media: