NATO drills fallout: Norwegian frigate almost underwater after oil tanker collision (PHOTOS)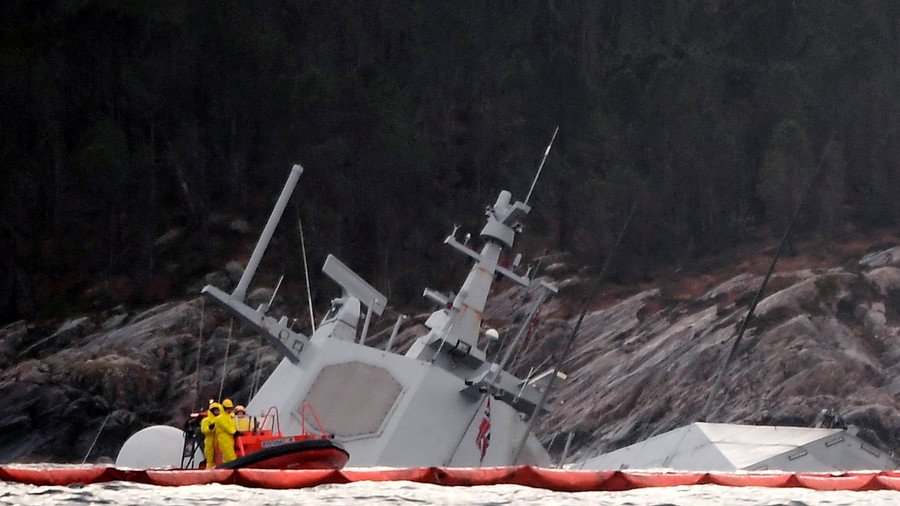 The Norwegian Navy frigate that tried and failed to return home after parading its might in NATO war games is almost completely submerged under water after colliding with an oil tanker.
Eight people were injured when the KNM Helge Ingstad and the tanker Sola TS collided last week off Norway's western coast, putting a not-so-great finish on the much touted Trident Juncture 2018 drills – the largest exercise hosted by Norway since the 1980s and the largest that NATO has held in decades.
READ MORE: Pooing troops, empty bars, sinking frigate and other takeaways from NATO largest drills
Since then, the frigate has been slowly sinking. Photos from the scene on Monday show a tiny fraction of the warship above water, with the rest of it completely submerged.
That comes despite the Norwegian military working since Thursday to attempt to salvage the frigate by tethering it to the shore with several wires.
The sinking ship is unfortunate for NATO, considering the Trident Juncture drills were designed to send a "clear message" to "adversaries" that NATO is "ready to defend...against any threat." Instead, the bloc member's Navy could now be sent to retest its navigation skills.
While the sinking ship has so far not been pinned on Russia, any such false accusation wouldn't necessarily come as a surprise. Finland's prime minister already found a way to blame his country's malfunctioning GPS signal during the drills on the Kremlin.
READ MORE: GPS glitches during NATO's largest war games in decades blamed on (DRUM ROLL) Russia
The Trident Juncture drills involved 50,000 participants from 31 NATO and partner countries. Around 250 aircraft, 65 vessels, and up to 10,000 vehicles were also involved.
If you like this story, share it with a friend!
You can share this story on social media: