Norwegian frigate collides with oil tanker off country's coast, 8 injured (VIDEO)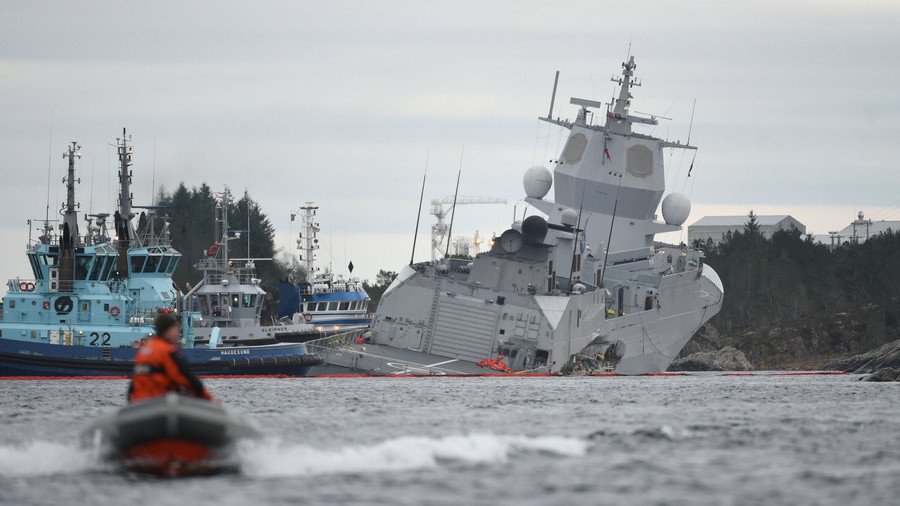 A Norwegian Navy frigate returning from a NATO exercise collided with an oil tanker off Norway's coast. Eight people received light injuries in the incident while the warship started slowly sinking.
The early morning collision, which involved the frigate KNM Helge Ingstad and the tanker Sola TS, happened off Norway's western coast near an island chain on which the municipality of Øygarden is located.
Unlike the warship, the tanker, which carries around 625,000 barrels of crude, was mostly undamaged in the incident and no signs of an oil spill were reported. The ship was still ordered to return to port for inspection.
READ MORE: 'Making Norway less safe': 50,000 troops engage in largest NATO drills in decades (VIDEOS)
The frigate, which reportedly received a long tear in the hull's starboard side, started to take on water and listed dangerously. A tank of helicopter fuel was damaged and leaked some of its content, local media say. The crew of 137 was ordered to abandon ship, which was moved closer to land to prevent it from capsizing.
The incident also triggered the shut-down of several oil industry sites in the vicinity, including a North Sea crude export terminal, Norway's largest gas processing plant and several offshore fields.
The KNM Helge Ingstad got into trouble while returning from the Trident Juncture 18 live drills, which concluded on November 7. It was NATO's largest exercise in decades, involving 50,000 troops, 10,000 combat vehicles, 65 vessels, and 250 aircraft. The next part – a command post exercise – will be held from November 14 to 24.
Think your friends would be interested? Share this story!
You can share this story on social media: