'Intruder' tried to break into Ecuadorian embassy through Assange's room – reports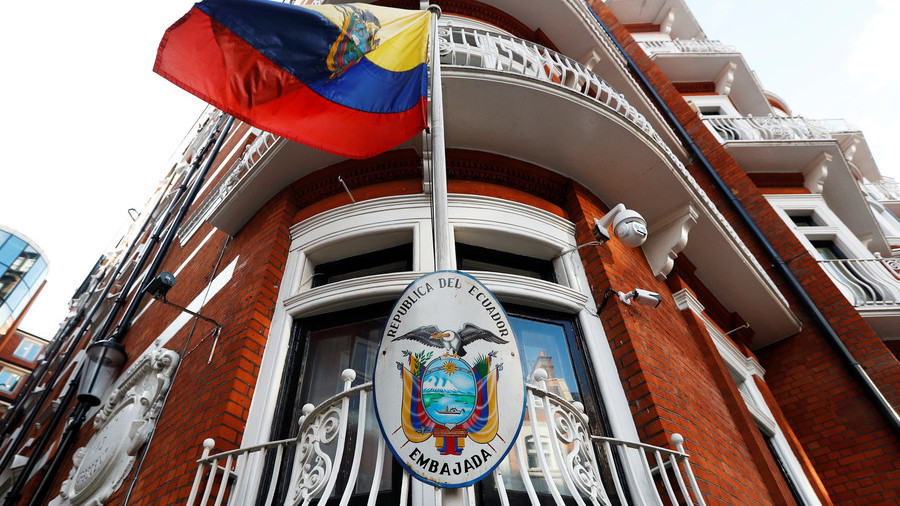 A mysterious "intruder" has reportedly tried to sneak through the window of WikiLeaks founder Julian Assange's room in the Ecuadorian Embassy in London. But the plot is said to have been thwarted by a "booby trap."
According to Suzie Dawson, activist and citizen journalist who has been covering Assange, the incident occurred on October 29. She said the news of the break-in attempt was confirmed to her by the whistleblower's legal team.
The message, allegedly sent by Assange's lawyers to Dawson, said that someone tried to enter through the embassy's windows at 4.31am, while the whistleblower was asleep. The supposed break-in attempt failed because Assange apparently "booby-trapped" the window with a fire hydrant, which got knocked over, waking him up.
The Metropolitan Police told the Daily Mail on Monday that they received no reports of the attempted break-in. However, Assange's legal team reportedly stated that scaffolding erected around the building "obscures" the security cameras, pointed at the window in question.
The purported break-in happened the day Assange was about to testify via teleconference at a hearing, challenging Ecuador's harshly revised terms for his asylum. The restrictions include a ban on discussing politics and accepting visitors, as well as covering his own expenses. The judge ultimately dismissed the lawsuit.
In recent weeks, Assange had been accusing Ecuador of using him as a "bargaining chip" in talks with the US and UK, who are pressuring the South American nation to revoke his asylum status. The whistleblower expressed fears that Quito is considering handing him over to British authorities, who can later turn him over to Washington.
His concerns were reinforced by the fact that Ecuador's Attorney General Inigo Salvador gave several interviews in which he floated the idea of taking the 'Assange issue' to the International Court of Justice, where – in case Ecuador loses – the state can be 'forced' to hand him over without breaking its own asylum rules.
Assange fears that once extradited to the US he would face persecution for Wikileaks' publications of secret US government data.
Think your friends would be interested? Share this story!