Cossacked! Steven Seagal gets LASHES in bizarre Russian rite (VIDEO)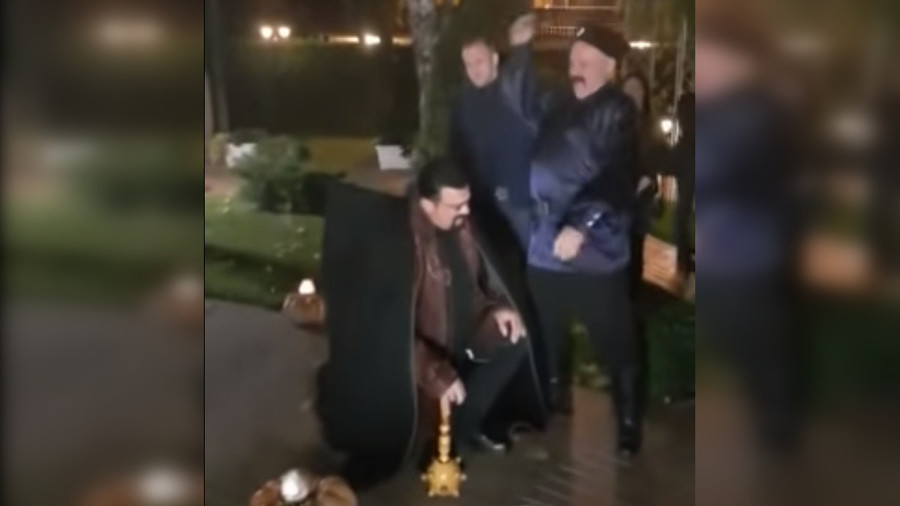 Action movie star Steven Seagal, who has been a Russian citizen since 2016, has become just a little bit more Russian. All it took was a few solid lashes as part of a Kuban Cossack rite.
Seagal arrived in the Southern Russian city of Krasnodar for a business forum. The city, which happens to be the capital of the branch of Cossacks native to the region of Kuban, greeted him with traditional Russian bread-and-salt… and something extra.
The Russia-loving movie star was given a wooden mace and a traditional sheepskin cloak and made to kneel in front of a burly Cossack – who proceeded to plant several weighty hits on Seagal's shoulders with a trademark lash. Every crack was accompanied with a well-wishing: "May your decisions be wise, may your strength never weaken!"
Thus 'knighted', Seagal rose and downed a shot offered to him to the accompaniment of traditional signing and – of course – a giant balalaika.
But the Cossacks weren't done with him just yet. In order to become one of them, Seagal still had to plant a tree, raise a son and build a house – that's the tradition, the master of the ceremony explained. Seagal explained he had already done all that – just not on Kuban land. So he took a shovel and planted a tree right there on the spot. The other two requirements were apparently waived.
Steven Seagal, a self-confessed "Putin's man," was granted Russian citizenship in 2016, and has since been appointed a special envoy to improve the ailing ties between Russia and the US. Whether he is planning to use his newly acquired Cossack tools – the wooden mace and the lash – for the purpose, remains to be seen.
If you like this story, share it with a friend!
You can share this story on social media: