Ancient graffiti shows we've been wrong about Pompeii doomsday date all along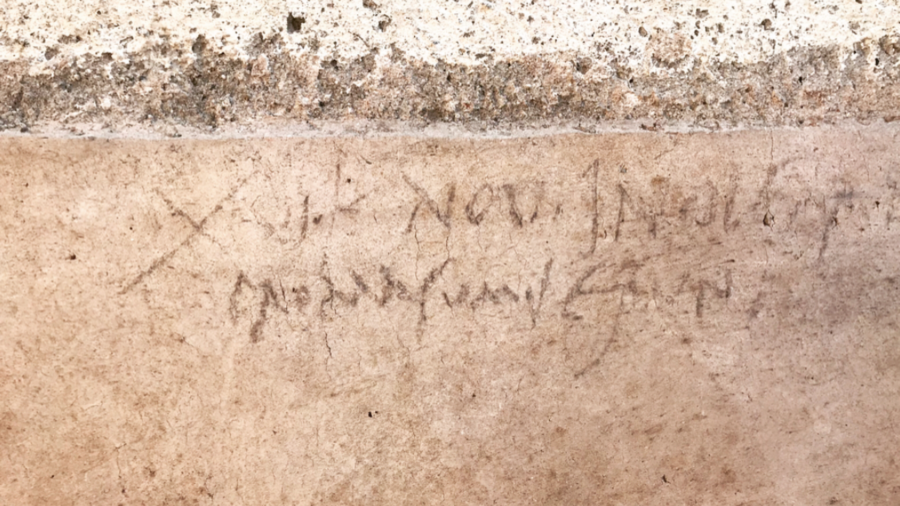 The idle scrawlings of an over-indulgent Roman builder may have just rewritten the history books regarding the date that Mount Vesuvius obliterated the city of Pompeii in 79AD.
Recently discovered graffiti at the site has shifted the timeline of when disaster struck the Roman city, killing all of its roughly 1,000 residents and preserving many of them in volcanic ash.
Graffiti of the phrase "XVI K Nov in [d]ulsit pro masumis esurit [ions]," which roughly translates as "He over-indulged in immodest food," was found written on the wall of a house that was apparently undergoing renovation at the time of the eruption.
"XVI K Nov" indicates the 16th day before the first of November, or October 17, contradicting the widely held belief that Vesuvius erupted earlier in the year, sometime in August, based on correspondence between Pliny the Younger and historian Tacitus 25 years after the disaster.
"Being charcoal, fragile and evanescent, which could not last long over time, it is more than likely that it is October 79 AD, a week before the great catastrophe that, according to this hypothesis, occurred on 24 October," archaeologists at the site wrote in a statement.
"Today, with much humility, perhaps we will rewrite the history books because we date the eruption to the second half of October," said Italy's Culture Minister Alberto Bonisoli, as quoted by The Independent.
The graffiti isn't actually the first discovery to cast doubt on Pliny's claims. Archaeologists previously found out-of-season produce like calcified fruits on tree branches, preserved in the ash, such as pomegranates, walnuts and wine which suggest that Pompeii wasn't obliterated until the Autumn.
READ MORE: Pompeii unveiled: Jaw-dropping drone footage shows extent of city's excavation
The well-preserved remains of Pompeians also provided another clue as their tunics were far too heavy for August, indicating that temperatures had cooled by the time disaster struck. Many braziers, used for heating, were discovered strewn around the city, indicating there may have been a chill in the air at the time of the catastrophic eruption.
This latest discovery indicates that yesterday, 1,939 years ago, a bored builder left a mundane scrawl about overindulging on junk food a week before their entire city was destroyed. This might put modern tweets and instagram posts in perspective, but probably not.
Think your friends would be interested? Share this story!
You can share this story on social media: