Inspection of mysterious ISS hole shelved as spacewalks suspended after botched Soyuz launch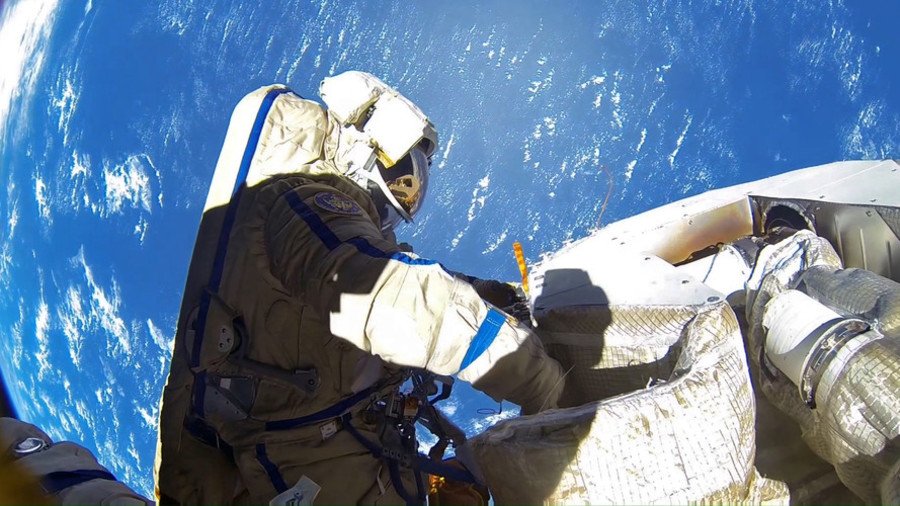 The investigation into a mysterious hole on a Russian ISS module has been left on a cliffhanger as several spacewalks had to be scrapped after a Soyuz rocket failed to bring two crewmembers aboard the station.
The ISS crew will do their best to perform spacewalks in the future, but "on other dates," Sergei Krikalev, senior official at Russia's national space agency Roscosmos, told reporters on Friday.
Cosmonaut Aleksey Ovchinin and NASA astronaut Nick Hague were forced to conduct an emergency landing on Thursday after their rocket suffered a malfunction shortly after take-off. The safety system worked flawlessly, and both men made it home safe without sustaining injuries.
Ovchinin was going to perform a spacewalk in November, teaming up with cosmonaut Sergey Prokopyev. The men were supposed to inspect a mysterious 2-millimeter hole found in the hull of a Soyuz module, docked at the space station. Now the operation is postponed indefinitely, and so is the intriguing investigation.
Astronaut Nick Hague was also scheduled to make two spacewalks this month, together with Germany's Alexander Gerst. The men planned to replace the batteries at the US module.
The launch of the Progress cargo ship, due to take place on October 31, may be delayed for some time, too, the officials said. The ship is set to deliver food and equipment to the space station.
Roscosmos had earlier decided to temporarily ground its Soyuz rocket launches until experts can properly assess the situation.
The officials cannot yet identify the chief cause of the Soyuz failure, aside from the fact that components of different stages of the rocket collided with each other. Final conclusions will be drawn by the official probe, which was launched on the day of the accident. The results of the probe are expected to be out by the end of the month.
Meanwhile, sources at Baikonur spaceport, Roscosmos' main launch site, told Interfax news agency that the next Soyuz manned spaceflight, scheduled for December, might happen a month earlier. It will be piloted by cosmonaut Oleg Kononenko and David Saint-Jacques from Canada, Ovchinin's and Hague's backups.
Kenny Todd, space station manager at NASA, said that the existing crew can stay on ISS till January and, if Russia doesn't resume the Soyuz launches by that time, the flight controllers can operate the station without anyone onboard. According to Todd, the station can function like this for a long time, unless it suffers major equipment failures.
The station's ability to function with no humans onboard was confirmed by Russia, but Roscosmos will do "everything possible" to avoid this scenario, Krikalev stressed. "The space station was designed for manned spaceflights, after all," he stressed.
Like this story? Share it with a friend!
You can share this story on social media: