Space detectives: Russian cosmonauts prepare for spacewalk to inspect mysterious Soyuz module hole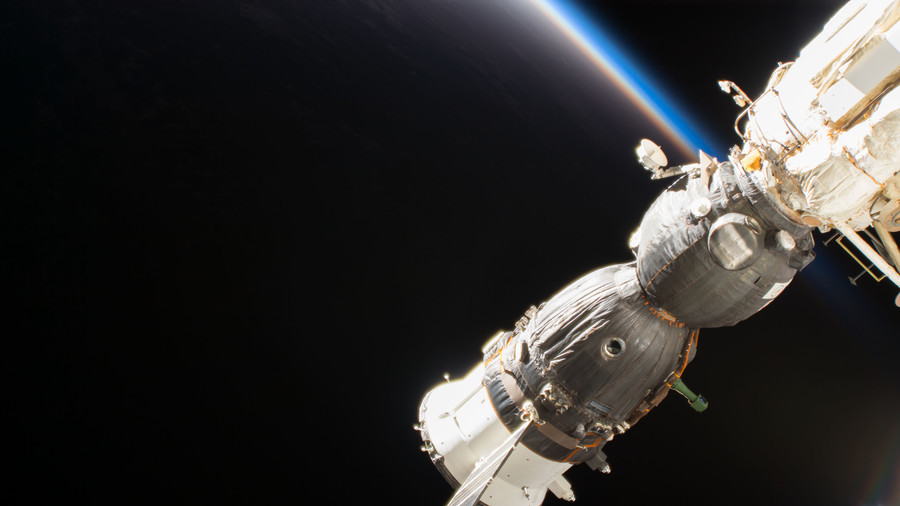 The investigation of a mysterious hole in the Soyuz spacecraft has reached a whole new level, as Roscosmos announced that two Russian cosmonauts will inspect the holey module from the outside. While in space, naturally.
Two cosmonauts will cut through the anti-meteorite shielding of the spacecraft in an attempt to find metal shavings and traces of sealant compound on the spacecraft, the deputy Director General of Russian space corporation Roscosmos, Nikolay Sevastyanov, announced on Tuesday.
ISS hole saga's new twist: More drill scratches discovered on outside hull
The space investigation is expected to shed light on the question of where exactly – in space or on earth – the drill-hole was made. The hole in the spacecraft was discovered late in August, when the International Space Station (ISS) started leaking oxygen. Various conspiracy theories blossomed after the incident, ranging from an impact of a micrometeorite to an alien job. It was determined, however, that the hole was actually made by a drill from the inside of the spacecraft.
Some reports by Russian media suggested that the breach was caused by a sloppy worker, who accidently drilled a hole and then "fixed" it with some sealant which dried up eventually and fell off. Other reports were even more wild, suggesting the hole was made by someone aboard the ISS.
The tricky spacewalk is set to take place on November 15, according to Sevastyanov. The whole Roscosmos investigation is expected to conclude later that month. The space part of it will be performed by Sergey Prokofyev, who is already aboard the ISS and Aleksey Ovchinin, who will join the crew with the upcoming Expedition 57, which is expected to blast off for the ISS on October 11.
Energia corporation, the manufacturer of the spacecraft, has already concluded an internal investigation and has not found any "system issues" during production of the capsule, according to Sevastyanov. The company, therefore, was not able to conclusively determine what caused the hole's emergence or to identify those who might have made it.
If you like this story, share it with a friend!