First footage of ISS crew after emergency landing (PHOTOS, VIDEO)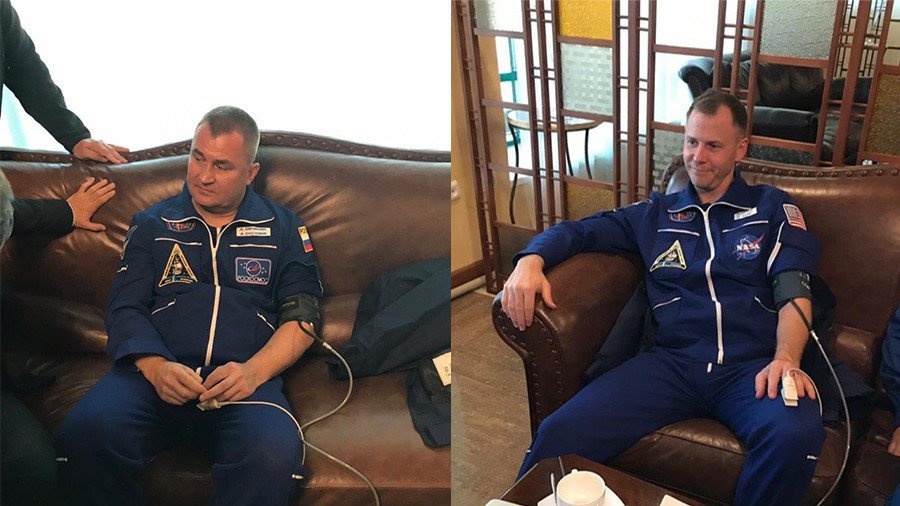 Russia's space agency, Roscosmos, has released footage of the ISS crew lounging on a couch with hot beverages and snacks after they were forced to make an emergency landing on Thursday.
Judging by the photographs, Russian cosmonaut Aleksey Ovchinin and American astronaut Nick Hague appear to be healthy and in good spirits. They are both hooked up to medical equipment monitoring their vitals.
#СоюзМС10: космонавт Роскосмоса Алексей Овчинин и астронавт @NASA Ник Хейг сейчас находятся в Жезказгане и проходят обследование перед вылетом. Генеральный директор Роскосмоса Дмитрий Рогозин (@Rogozin) принял решение о транспортировке космонавтов на Байконур. pic.twitter.com/b1IzKZZI8O

— РОСКОСМОС (@roscosmos) October 11, 2018
A short video also showed Hague chatting with a Russian colleague on a couch, with Ovchinin getting a check-up on a nearby sofa.
READ MORE: 'Thank God they're well': Cosmonaut's wife tells of horror, relief in wake of emergency landing
The footage was taken in Zhezkazgan, Kazakhstan, but the pair will soon be transported to Yuri Gagarin Cosmonaut Training Center, outside of Moscow.
The crew's Soyuz spacecraft failed shortly after take-off from Baikonur on Thursday. It's believed that the booster failed to separate from the Soyuz MS-10 space capsule, although the specifics of the anomaly are still being investigated.
Like this story? Share it with a friend!
You can share this story on social media: