Denmark investigating policewoman who hugged niqab-wearing protester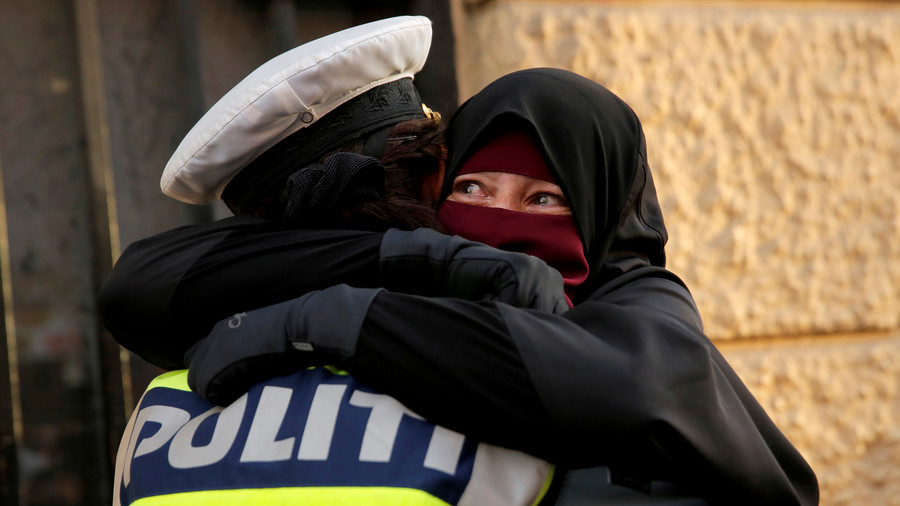 A policewoman in Copenhagen is under investigation after she hugged a woman wearing a niqab, the police force's complaints body has confirmed. The embrace occurred as the woman protested against Denmark's ban on face veils.
The incident occurred on August 1, the day that Denmark's nationwide ban on face veils took effect. A photo of the embrace, captured by a Reuters photographer, angered the anti-immigration Liberal Party and others, who complained to the police.
"The photo has made the police an involuntary actor in a very sensitive political debate which they should not participate in," Liberal Party lawmaker Marcus Knuth, who was among the complainants, told media.
He added that the role of the police is to "enact the law, not hug people who are against it." However, he acknowledged that he was not sure if the woman was hugged out of sympathy or because she had become ill.
The policewoman's lawyer has said the complaints are "complete nonsense," and that his client was acting appropriately within her role as a "dialogue officer." The woman wearing the niqab appears to be crying in the photo.
"As my client said, if it had been any other person in the same situation she would have done the same, so it has nothing to do with her wearing the niqab," Attorney Torben Koch said.
The policewoman's name has not been made public, but Reuters has reported that she is white and Danish.
Denmark's ban on face veils, which was initially brought forward by the country's ruling center-right coalition, was passed with a 75-30 vote and went into effect on August 1. Those who violate the law risk a 1,000 kroner (€135) fine, with repeat offenders liable for a 10,000 kroner (€1,340) fine or jail time.
On the day the photograph of the embrace was taken, hundreds of Muslim women and supporters took to the streets of Copenhagen to protest the move. Activists call the ban discriminatory, believing it infringes on the freedom of religion, while others say it is necessary in order to uphold Denmark's secular and democratic values.
Denmark's law follows similar bans on face veils in France, Belgium, and Austria.
Like this story? Share it with a friend!
You can share this story on social media: