Muslim women & supporters protest as Denmark burqa ban comes into effect (VIDEO)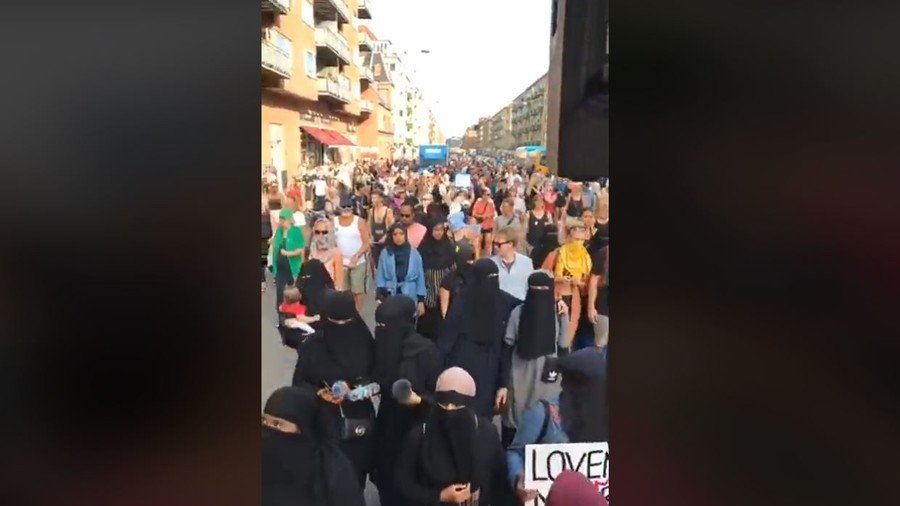 Hundreds have rallied in Copenhagen as a new ban on the wearing of face veils in public came into effect in Denmark. The Danish government is taking a more conservative position on immigration and integration.
The 'burqa ban' came into effect on Wednesday, after being enacted by the Danish parliament in May. The law was brought forward by Denmark's ruling center-right coalition, and passed with a 75-30 vote.
Under the ban, the wearing of the niqab face veil and the burqa, a full-body cover, is outlawed. Those who break the law risk a 1,000 kroner (€135) fine, with repeat offenders liable for a 10,000 kroner (€1,340) fine or jail time.
Protesters began marching against the ban at 5pm local time on Wednesday, heading from Copenhagen's Norrebro district to Bellahoj police station on the outskirts of the capital. Children, Muslim women not wearing the niqab and non-Muslim Danes with their faces covered have joined the march.
The demonstration aimed "to send a signal to the government that we will not bow to discrimination and a law that specifically targets a religious minority," 21-year-old protester named Sabina told Reuters. Sabina is one of about 200 Muslim women – 0.1 percent of the population – in Denmark who wear a veil or full body cover on a daily basis. Copenhagen is home to over 50,000 Muslims.
Activists have called the ban discriminatory. Marcus Knuth, member of parliament from the ruling Venstre party called the burqa "strongly oppressive." Denmark now joins France, Belgium, and Austria in banning the wearing of the burqa in public.
Knuth's party has presided over a shift to the right in Danish politics recently, in reaction to the European refugee crisis. Knuth has described refugees as a "burden" on Danish society, and called for their immediate deportation once their home countries are deemed safe to return to.
In March, immigration minister Inger Støjberg marked the passing of her 50th anti-immigration measure by celebrating with a cake decorated with fruit, the Danish flag, and the number '50.'
Among Støjberg's 50 regulations is one requiring newly arrived asylum-seekers to hand over their valuables and jewelry to help pay for their stay in Denmark, and a separate law imposing identity checks along the border with Germany.
The government has also targeted settled immigrants, who it says often live in "parallel societies." In July, as part of a series of measures aimed at eradicating immigrant ghettos, the government announced tougher criminal penalties, lower benefits, and mandatory integration classes for those living in ghettos.
The latest law has divided public, with some praising the 'burqa ban' on social media and others calling it a populist and discriminatory move.
Asylum applications in Denmark have dropped by 84 percent between 2015 and 2018. The country is home to some 500,000 non-western immigrants, mostly hailing from Turkey, Syria, Iraq, Lebanon, Pakistan, and Somalia.
Like this story? Share it with a friend!
You can share this story on social media: