A faded bromance? Macron hits out at Trump on Iran and trade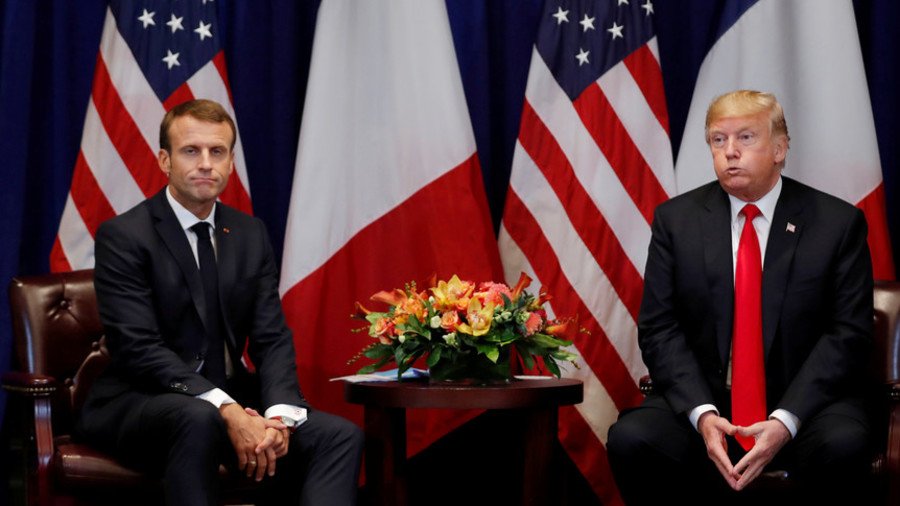 In a speech to the UN General Assembly, French President Emmanuel Macron called for multilateralism in dealing with Iran, and for countries to stop making trade deals with those outside the Paris climate accords, namely the US.
Macron's Tuesday speech was undoubtedly less scrutinized than US President Donald Trump's - which came shortly beforehand - and was thematically worlds away. While Trump celebrated the concept of sovereign nation-states and rejected "global governance," Macron called for multilateralism in diplomacy and trade.
Trump threatened Iran with even tougher sanctions, and accused Hassan Rouhani's government of using the sanctions relief granted by the 2015 Iran Deal to "build nuclear capable missiles, increase internal repression, finance terrorism, and fund havoc and slaughter in Syria and Yemen" through proxy forces.
Macron on the other hand credited the deal - which granted Iran sanctions relief in exchange for a halt to its nuclear weapons program - with bringing stability to the region.
"What will bring a real solution to the situation in Iran and what has already stabilized it? The law of the strongest? Pressure from only one side? No!" Macron said. "We know that Iran was on a nuclear military path but what stopped it? The 2015 Vienna accord."
France remains party to the deal, signed between Iran, the US, UK, France, Germany, China and Russia. Trump unilaterally withdrew the US from the deal, which he called "a windfall" for Iran in May. Macron was in Washington just days before Trump's withdrawal, and voiced his opposition then too, arguing that a bad deal was better than no deal at all.
On Tuesday, Macron channeled some of his inner Trump when he declared that France will "no longer sign commercial agreements with powers that do not respect the Paris accord," referring to the climate agreement Trump pulled the US out of last year. Trump said at the time that the Paris agreement - signed by 195 countries - unfairly penalized the US and allowed countries like China and India to continue to pollute.
The French president did not explicitly name America in his Climate tirade, but called on other countries to join him in taking a stand.
Coming from vastly different societies and opposite political schools of thought, Macron and Trump somehow hit it off from the moment the pair engaged in the now internet-famous 'iron handshake' at a NATO summit in May 2017.
From there, the two leaders developed a 'bromance' of sorts, traveling to each other's countries for reciprocal state visits and lavishing each other with praise. That relationship reportedly soured in recent months, as Trump and the EU became locked into a trade spat. When the two met before the General Assembly on Monday in New York, they exchanged a brief and polite handshake before getting down to discussions.
The White House described the talks with the watery statement: "Both leaders reaffirmed their commitment to closely coordinate to address global challenges." French officials described the meeting as "cordial."
Yet, while the bromance may have faded, Macron seems to have learned from his bigger, brasher, US counterpart. His bold statement on refusing to make trade deals with anyone who disrespects the Paris accord sounded remarkably similar to Trump's rhetoric on Iran last month, after US sanctions came into force.
"Anyone doing business with Iran will NOT be doing business with the United States," Trump tweeted at the time, with the same 'my way or the highway' finality. Likewise, Macron's constant return to themes of international cooperation were delivered with the same intensity as Trump's celebrations of national identity and sovereignty.
Whereas Trump called nation states "the only vehicle where freedom has survived," Macron described nationalism as as "failed" system that would only lead to bloodshed. Macron also aped Trump's rhetoric when he described unilateralism and nationalism as old "dogmas," the same word Trump used to describe the doctrines of multilateralism.
Whatever the state of the bromance, Trump is tentatively scheduled to visit Paris in November to commemorate 100 years since the end of World War 1.
Think your friends would be interested? Share this story!
You can share this story on social media: