What's wrong with this picture? Putin scrutinizes scale model and...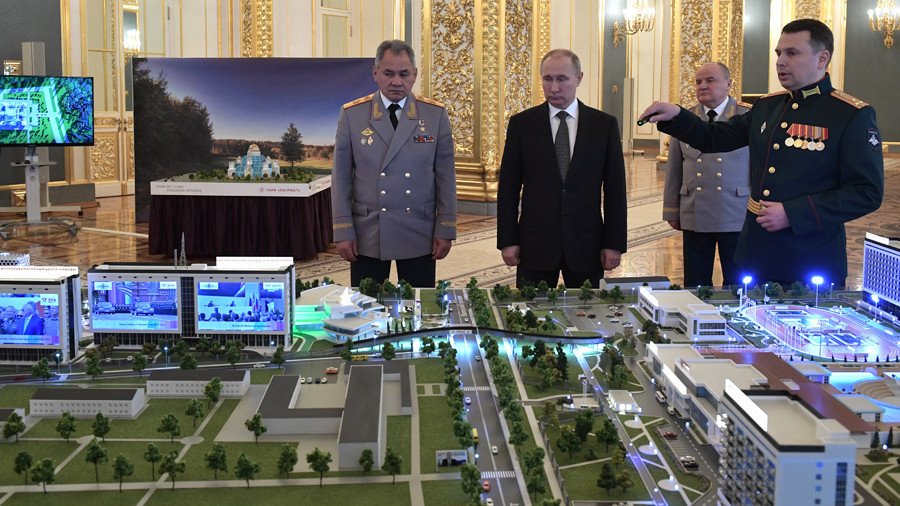 When the Russian defense minister showed President Vladimir Putin the army's future technopolis scale model, some eagle-eyed Russians pointed out an anomaly as it apparently features a billboard with the president's election ad.
Sergey Shoigu's presentation was on the minutiae of a military technopark currently under construction in Anapa. He delivered it to the president on February 23, the national holiday in honor of the Russian military. The facility is intended to act as an innovation hub for Russian military contractors.
Photos of the event show a scale model of the future facility in some detail, complete with large lawns, open air sports arenas and buildings with giant screens on them. Hiding among those is a tiny billboard with what some users have pointed out to be Putin's election advertising: Russia is to hold presidential elections in less than three weeks.
The discovery has caused some stir among the online opposition community, abuzz with speculation that Putin's election campaign ad appeared in the scale model for a reason.
However, similar accusations have in the past turned out to be misplaced. In 2011 for example, the defense ministry was ridiculed after a report claimed that it was planning to introduce badminton as part of its physical training regimen. The news came shortly after then-President Dmitry Medvedev promoted the sport in a video blog, and the initial report claimed that the Russian military would start boosting the body control of snipers with rackets and shuttlecocks – none of which was true.
Like this story? Share it with a friend!
You can share this story on social media: