Compromising photo of Macron's aide posing with gun for selfie leaked to press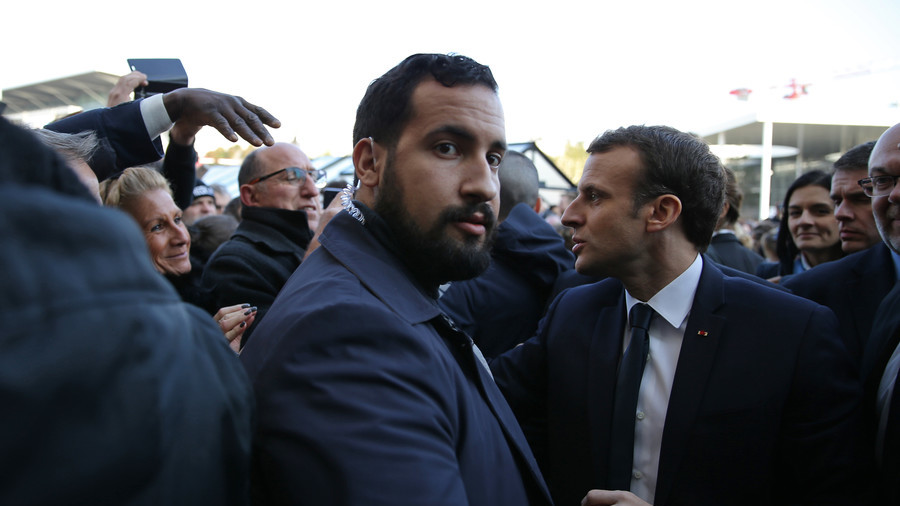 Alexandre Benalla, the former security aide of Emmanuel Macron, has been embroiled in more controversy after Mediapart published a particularly compromising photo this week.
The now notorious protester-beating aide of Emmanuel Macron, who is at the center of the president's 'Watergate' scandal, once posed with a gun for a photo during Macron's campaign without having a license for the firearm, according to a report.
Mediapart investigative journal has released a compromising photo of Benalla, the man behind the biggest scandal of the centrist's presidency. The selfie taken by a woman whose face is blurred out shows Benalla proudly posing with a gun alongside several people. The weapon is pointed at the woman.
It was reportedly taken at a restaurant after a meeting with the president-to-be in the city of Poitiers in western France on April 28, 2017, less than a month before the final round of the presidential election.
One side of the story is that Benalla, who was the head of Macron's security team during the 2017 presidential campaign, wasn't authorized to have a weapon back then. He obtained a gun license on October 13, 2017, six months after the selfie in question.
However, the license is the least of what people on social media have been talking about. They said that the weapon "is not a toy" to be used for a selfie. "The weapon placed near the head of the girl is dangerous and disrespectful," one person noted.
"It's not just a matter of showing off a weapon but pointing that weapon at a woman," another person noted.
The scandal involving the 27-year-old Benalla kicked off this summer when a video emerged showing him illegally dressed as a police officer, beating two protesters during a May Day rally in Paris. The 'Benalla affaire' unfolded after it was revealed that the Elysee Palace had been informed of Benalla's misconduct but failed to report him to police. Instead, he was transferred from his position as a civilian adviser to Macron to another well-paid job in the palace.
Think your friends would be interested? Share this story!