Trump slams Iran, illegal immigration, globalism during UNGA speech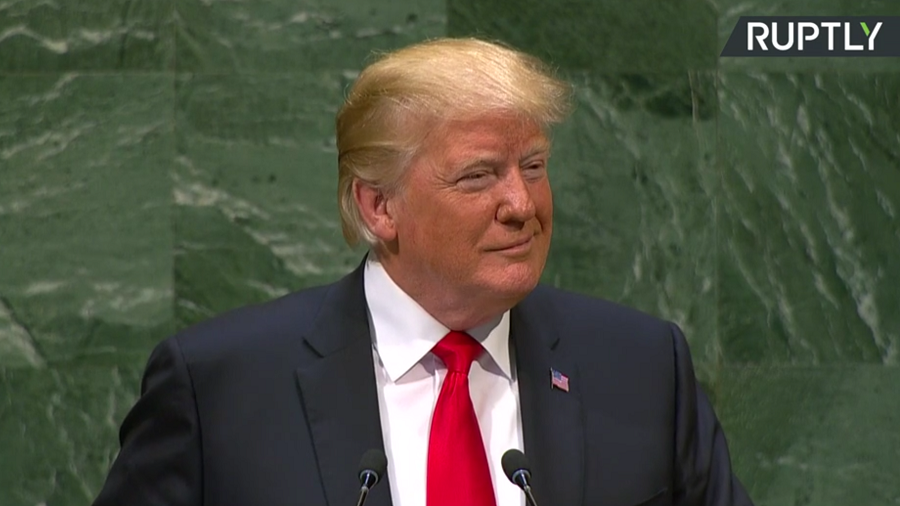 US President Donald Trump has addressed the UN General Assembly, stressing that he rejects globalism and socialism while taking aim at illegal immigration and the "corrupt dictatorship" of Iran which sows "death and destruction."
25 September 2018

15:15 GMT

Trump says that people around the world watching him speak have the same "heart of a patriot" for their own individual nations. He says that this patriotism has inspired scientific breakthroughs and great art. "Our task is not to erase it, but to embrace it," he says.

15:12 GMT

Trump spoke of Saudi Arabia, crediting the government for pursuing "bold new reforms."

He also spoke of good things taking place in other countries in the world, including India, Poland, and Israel.

15:11 GMT

America believes in the "majesty of freedom" and the "dignity of the individual," as well as "self government and the rule of law."

15:09 GMT

Trump once again said he expects other countries to pay their fair share for the cost of their defense.

"We must pursue peace without fear, hope without despair, and security without apology," Trump said.

15:09 GMT

Washington is the world's "largest giver" of foreign aid but "few give anything to us," he said, stating that this is the reason the government is looking deeper into US foreign assistance.

Trump said that moving forward, the US is only going to give foreign aid to those who respect Washington and "are our friends."

15:06 GMT

All nations of the world should "resist socialism and the misery it brings to everyone," Trump said, while calling for the restoration of "democracy" in Venezuela.

15:03 GMT

Illegal immigration "funds criminal networks, ruthless gangs, and the flow of deadly drugs," Trump said, adding that it has produced a cycle of crime, violence, and poverty.

He stressed that only by upholding national borders and destroying criminal gangs can the cycle be broken.

Trump defends national sovereignty against global bureaucracy at the UN, too right.

— Nigel Farage (@Nigel_Farage) September 25, 2018

15:01 GMT

America is "governed by Americans" and rejects "the ideology of globalism," Trump stressed.