'Chlorine delivered': Idlib militants 'readying false flag attack' in Syrian village – Russian MoD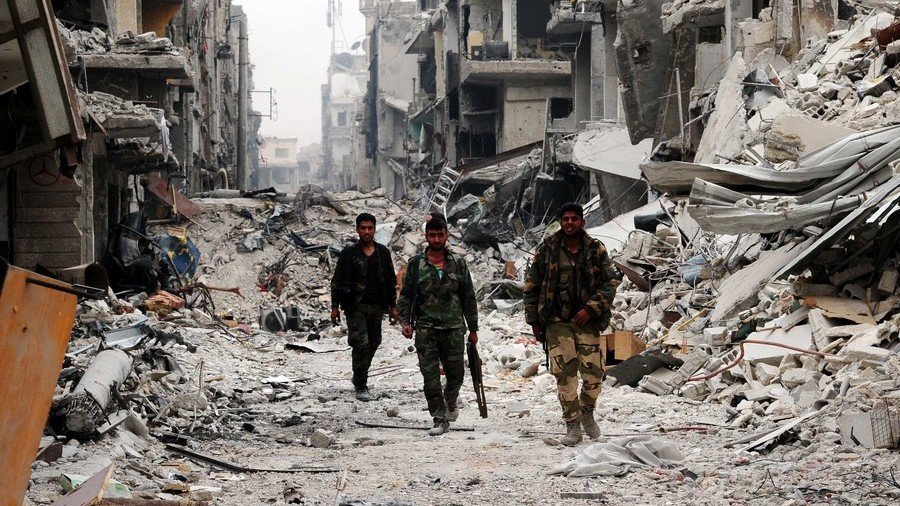 Militants in Syria's Idlib have transported several canisters containing chlorine to the village of Bsanqul, apparently preparing to stage a false flag chemical attack, the Russian Defense Ministry has said.
The chlorine-filled canisters were delivered by the Al-Qaeda-affiliated militants of Tahrir al Sham, formerly known as Al-Nusra Front, a spokesman of the Russian Center for Reconciliation in Syria, Lieutenant General Vladimir Savchenko, said in a statement Saturday. He added that the latest developments showed that the militants are preparing for a false flag attack that would be used to accuse the Syrian government of using chemical weapons against its people.
This is the latest warning from the Russian military on what it says is a chemical "provocation" in the making. On Wednesday, it said the White Helmets group has shot videos intended to be used in framing the Syrian government. Earlier, the MoD said toxic chemicals had been delivered to Idlib and accused the White Helmets of carrying out the delivery.

The US and its allies have so far dismissed the Russian warnings, but said that the government in Damascus might instead be preparing chemical attacks against civilians. Moscow has suggested that the attack might be prepared with the support of Washington, which wants to justify further air strikes against Syria. Those planned strikes are said to be much larger in scale than those launched against the Syrian military by the US, the UK and France in April.
READ MORE: 'Don't test us': Haley threatens US strikes over any attack on Syria's Idlib
It comes as Washington has been building up its military presence in the region. In late August, the missile destroyer USS Ross was deployed to the Mediterranean, carrying 28 Tomahawk cruise missiles, while the USS The Sullivans was deployed to the Persian Gulf and a B-1B Lancer strategic bomber was moved to an air base in Qatar.
Most recently, the USS Bulkeley (DDG-84), an Arleigh Burke-class destroyer, entered the Mediterranean through the Straits of Gibraltar. Last week, the attack submarine USS Newport News (SSN-750) arrived in the Mediterranean as well.
With the arrival of the Bulkeley, the US forces in the region reportedly have up to 200 Tomahawk cruise missiles available to strike targets in Syria if ordered to do so, Russian media reports.
READ MORE: Merkel reportedly weighing German involvement in Syria, coalition partner says 'Nein'
Think your friends would be interested? Share this story!
You can share this story on social media: