White Helmets making films of 'chemical attacks' with orphans in Idlib – Russian military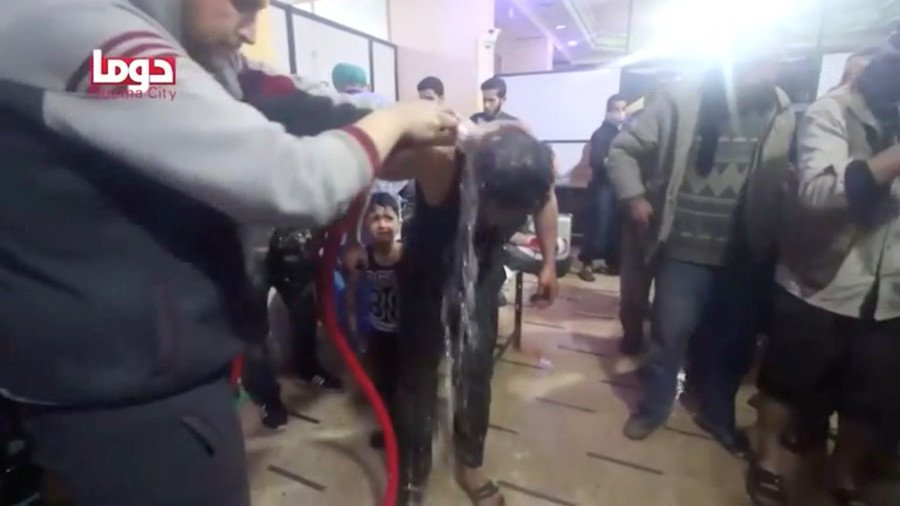 The White Helmets have shot at least nine videos intended to serve as proof in accusations that the Syrian government conducted a chemical weapon attack using chlorine against civilians in Idlib, the Russian military claims.
READ MORE: Filming of staged chemical attack in Idlib, Syria begins – Russian MoD
A number of Middle Eastern TV channels and a regional affiliate of a US broadcaster "have shot nine videos, in Jisr al-Shughur city in Idlib province, of a staged chemical attack" that will be blamed on the Syrian government, the Russian Reconciliation Center In Syria said in a statement on Wednesday.
All videos show activists from the White Helmets group, which purportedly provides assistance to civilians, the statement claims.
The Russian military details that on September 11, the White Helmets and terrorists from Tahrir al-Sham (commonly known as Al-Qaeda in Syria) held a meeting following the filming process, in which they selected two out of nine videos for future transfer to the United Nations and the Organisation for the Prohibition of Chemical Weapons (OPCW). The remaining videos are to be used for propaganda on social media networks due to the poor quality, the military claims.
At the same time, since September 9, the White Helmets have been staging rehearsals of an alleged chemical attack in Khan Shaykhun, Russian officials say in the same statement, claiming that the rehearsals feature up to 30 civilians, including a dozen children aged 8-12.
Further claims by the Russian military indicate the White Helmets, along with the terrorists, are preparing an "actual use of poisonous chorine-based substances" on the people participating in the filming of the fake videos.
On-the-scene preparations of places for explosions of toxic substances is carried out by members of Hurras al-Din terrorist group (or the Guardians of Religion Organization, which is affiliated with Al-Qaeda), the statement claims.
The militants have selected 22 children and their parents from several villages in the Aleppo governorate who will play parts in staging fake chemical weapon attacks.
Another group of children is comprised of orphans kidnapped from refugee camps, who are meant to be used for the footage of death scenes. It is currently kept in one of the buildings of the Ikab prison controlled by Jabhat al-Nusra terrorist group.
Signs of activities to prepare staged chemical weapon attacks were reported in Kafir-Zait, the military claims, also naming two villages where toxic chemicals have been delivered to stage provocations.
Think your friends would be interested? Share this story!
You can share this story on social media: