Unpredictable geopolitical climate makes Russia-China ties more important – Xi Jinping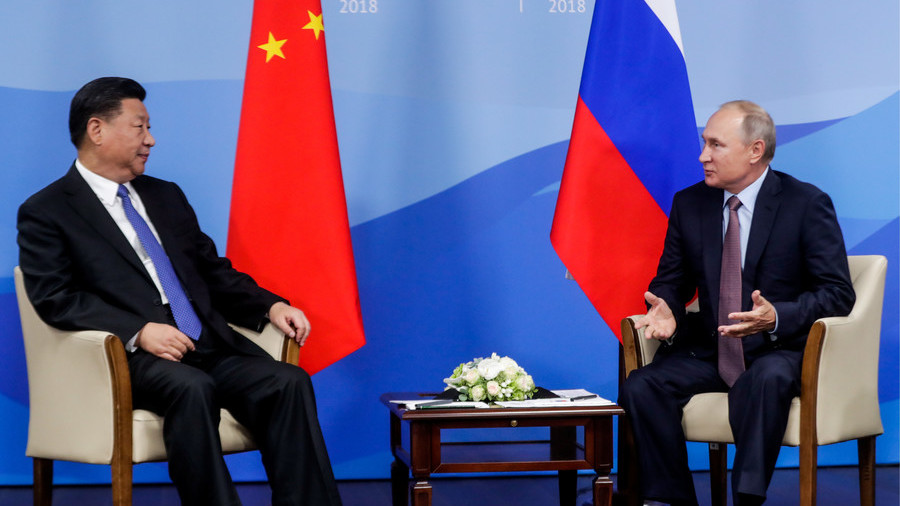 An increasingly unpredictable geopolitical climate makes the partnership between Moscow and Beijing more important, Chinese leader Xi Jinping said during talks with President Vladimir Putin on Tuesday.
The two leaders met at the Eastern Economic Forum in Vladivostok in Russia's Far East. During the talks, Xi also advocated for both countries to team up against protectionism.
The Russian-Chinese partnership "allows us to jointly neutralize the external risks and challenges, and to assist joint development," Xi later told the delegation of Russian and Chinese governors.
Putin echoed Xi's position, saying that a lot depends on how Russian-Chinese ties play out. "Our relations are crucial, not only for our countries, but for the world as well," he said.
Xi and Putin agreed to work on boosting trade and to conduct more bilateral transactions in the Russian ruble and the Chinese yuan, rather than the US dollar. The decision to increase the number of yuan-ruble contracts between the nations was reached back in June.
Vladimir Putin told reporters that Moscow and Beijing will continue working jointly towards de-escalation and a political settlement on the Korean Peninsula. Under the Russian-Chinese 'dual freeze' proposal, North Korea should suspend nuclear tests and ballistic missile launches, while the US will halt its drills with South Korea. Both sides should refrain from provocations and aggressive rhetoric.
READ MORE: 300k troops & thousands of war machines: Russia starts biggest military drill in decades (VIDEO)
The steps toward normalization of US-North Korean relations are also "an important element" of the settlement, Putin said.
The leaders also agreed to continue defense and security cooperation. The Chinese Air Force is currently taking part in Russia's massive Vostok 2018 military drill in Russia's Far East.
Think your friends would be interested? Share this story!
You can share this story on social media: