Violence erupts in India during nationwide strike against record-high fuel prices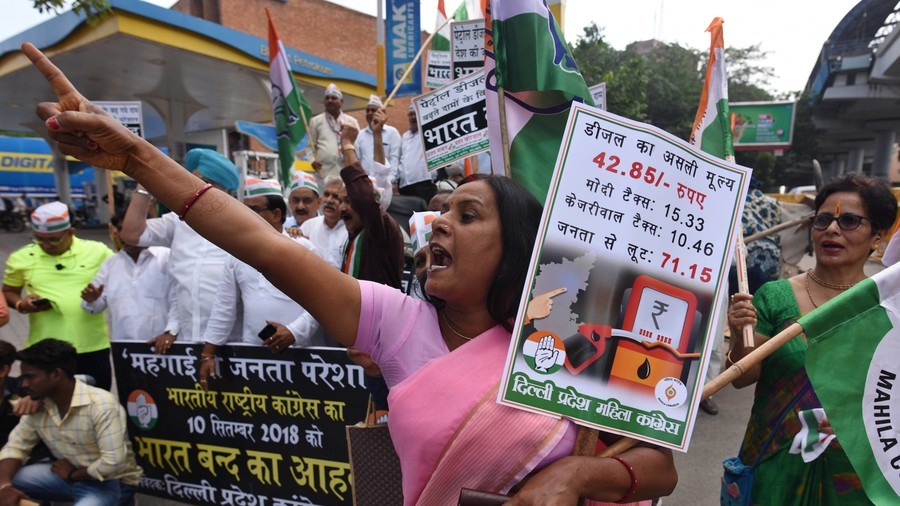 A nationwide strike against record-high fuel prices in India has seen violence and disruption across the country. Schools and businesses were shut down, transport services were disrupted and vehicles vandalized.
With elections looming in nine months' time, India's Congress and 21 other political parties marched on Monday to protest what they say is the government's failure to cap soaring fuel prices, including diesel and petrol.
According to local media outlets, petrol pumps were set ablaze while state-run buses and trains were vandalized and pelted with stones as part of the 'Bharat Bandh,'or national strike.
READ MORE: Thousands of workers rally in New Delhi for 'biggest labor march in decades'
Some 300 Congress functionaries were arrested in Gujarat, the hometown of Prime Minister Narendra Modi, the Hindustan Times reports.
When international oil prices shot up, past governments would lower taxes, but Modi has until now fallen short of giving any such concessions.
Congress leader Rahul Gandhi said the PM's policies are to blame for workers seeing "no light" at the end of the tunnel as soaring prices empty their pockets, while 15-20 corporations reap all the benefits.
"Today, the entire opposition is sitting together. All of us will work together to oust BJP," Gandhi said, according to the Times of India newspaper. "Narendra Modi is silent, he has not spoken a word on rising prices of fuel," he added.
The BJP, however, rejected the accusations, saying that while it acknowledges there are "momentary difficulties" the people of India do not support the strike. "People know the truth, there is no role of government in fuel hike. It is due to external factors," Union Minister Ravi Shankar Prasad said at a press conference, according to the Hindustan Times.
If you like this story, share it with a friend!